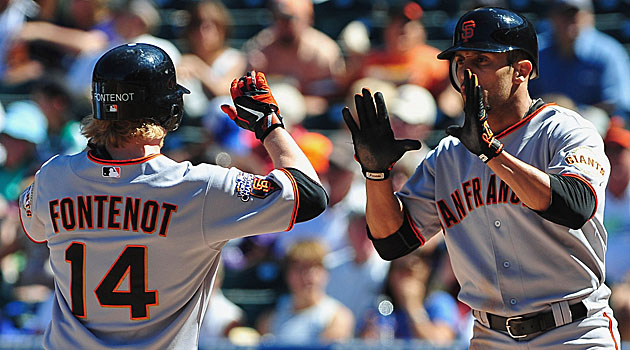 By Matt Snyder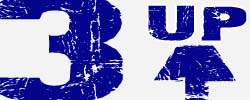 Giants' offense.
Brandon Belt
hit a home run in the fourth inning, which marked the third straight game in which he'd hit a bomb. So I was all ready to have him here alone. But then starting pitcher
Matt Cain
went deep for just the fifth time in his career. Then
Pablo Sandoval
hit his second home run of the inning and all of a sudden it was an eight-run inning. The Giants had a 10-1 lead and
would go on to win 12-5
.
Mike Fontenot
and
Brandon Crawford
also homered while the Giants pounded out 13 hits. So the Giants scored 35 runs in a four-game series. This is a team that entered the series dead last in the NL in runs scored. They've won eight in a row and are
only four out in the NL Wild Card race
.
Erick Aybar, Angels.
I always hesitate to use the term "career day" because it quite literally means it's going to be the best day of a player's career. In light of that, it's a term that is overused, frankly. I think we can at least think about doing it here, though.
In a much-needed victory
for the Angels, Aybar was 4-for-4 with two home runs, four RBI and five runs scored. The five runs tied an Angels record for a single game while it was the first time in Aybar's career that he hit more than one home run in a game. Oh, and Aybar's two non-homers were doubles. He also drew a walk. So he came to the plate five times, scored five times, made zero outs and accrued 12 total bases. Yes, that's a day he won't soon repeat. I'll say it was a career day.
Dodgers' offense.
Yeah, the West Coast teams decided to pack some punch Sunday. This particular game was ugly. It was 11-0 Dodgers through three innings.
It ended 15-1
, as the Dodgers piled up 23 hits.
James Loney
, who seems to have flipped some sort of switch here in the past four weeks, was 5-for-6 with a double, three RBI and two runs.
Juan Rivera
was 3-for-4 with a double, three runs and four RBI.
Jerry Sands
was 4-for-6 with a home run and four RBI.
Matt Kemp
was 3-for-4 with a double, home run, three runs and two RBI.
Dee Gordon
was 3-for-4 with a triple and three runs. Perhaps the most amazing stat? They left
14
men on base.
Also note:
There just wasn't enough room here for the power-hitting display Sunday.
White Sox
catcher
A.J. Pierzynski
,
Blue Jays
DH
Adam Lind
and
Cardinals
outfielder
Allen Craig
all hit two home runs, respectively.
---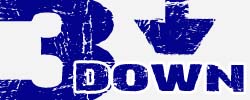 Jonny Venters, Braves.
Rough outing for one third of O'Ventbrel (that's a combination of O'Flaherty, Venters and Kimbrel, for those unaware of the Atlanta moniker). Venters walked three -- including one with the bases loaded -- while allowing two hits and two earned runs in the eighth. He made a one-run lead into a one-run deficit and the
Braves ended up losing the game 7-5
. Venters now has a 6.30 ERA, 2.10 WHIP and two blown saves in his past 11 outings.
The Pirates.
Pirates pitchers faced 53 hitters.
Thirty
reached base. You can't win a game in the majors where more than half the batters reach base. That's just embarrassing. Oh, and Dodgers starter Chad Billingley hadn't won a game in six weeks, but he shut the Pirates down. Remember when they were above .500? The Pirates are 68-85 now.
Matt Maloney, Reds.
He wasn't supposed to start, as
Dontrelle Willis
was a late scratch. Maloney was then forced into action, but the
Brewers
made sure Maloney wouldn't hang around for long. They torched the lefty for nine hits and seven runs (six earned) in just 1 2/3 innings of action. This included two home runs.
The Reds lost 8-1
and were swept by the Brewers.
For more baseball news, rumors and analysis, follow @EyeOnBaseball on Twitter or subscribe to the RSS feed.