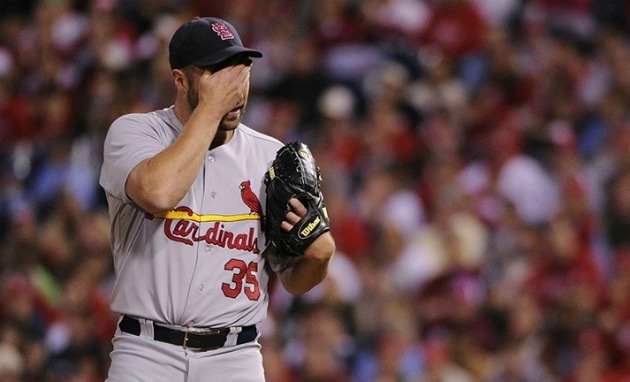 By C. Trent Rosecrans
The Braves were officially eliminated from the National League East race and they couldn't be happier about it.
There was no way Atlanta was going to catch the Phillies in the East, but a Braves win over the Mets coupled with the Phillies' victory over the Cardinals put the Braves' wild card lead at 4.5 games, with 10 games to go. Philadelphia clinched the National League East with a 9-2 victory over the Cardinals, their fifth straight division title.
Losing five of their last seven, any win -- be it 1-0 or 11-0 -- was a welcome site for the Braves.
It wasn't easy for Atlanta on Saturday, as Tim Hudson and New York's R.A. Dickey locked into a fantastic pitchers' duel, allowing just seven hits between them. Hudson allowed four, but struck out 10 and had noted Mets killer Chipper Jones on his side. Jones' two-out single in the eighth brought in the game's only run and rookie closer Craig Kimbrel recorded his 45th save, striking out all three batters he faced in the ninth.
In Philadelphia, the Phillies used a six-run eighth inning -- capped by a Raul Ibanez grand slam -- to pull away from the Cardinals, who still have to face Cole Hamels and Roy Halladay before leaving Philadelphia.
Atlanta Braves
87-65
Remaining schedule: 1 vs. NYM, 3 @ FLA, 3 @ WAS, 3 vs. PHI
Coolstandings.com expectancy of wild card: 95.4 percent
St. Louis Cardinals
82-68, 4.5 GB
Remaining schedule: 2 @ PHI, 3 vs. NYM, 3 vs. CHC, 3 @ HOU
Coolstandings.com expectancy of wild card: 3.2 percent
San Francisco Giants
82-70, 5 GB
Remaining schedule: 2 @ COL, 3 @ LAD, 3 @ARI, 3 vs. COL
Coolstandings.com expectancy of wild card: 1.1 percent
For more baseball news, rumors and analysis, follow @eyeonbaseball on Twitter or subscribe to the RSS feed.