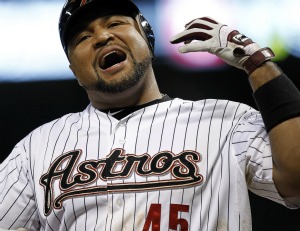 By C. Trent Rosecrans
For the first time in franchise history, the Astros have lost 100 games, reaching the century mark with a 2-1 loss to the Cubs at Wrigley Field on Saturday.
The 100-loss season leaves just two teams -- the Rockies and Angels -- without a season of 100 losses in their history.
The A's -- from Philadelphia to Kansas City to Oakland -- have the most 100-loss seasons on their record, 16. The Astros are now just one of six teams to have just one 100-loss season on their record, joining the Brewers, Diamondbacks, Giants, Marlins and Reds.
The Astros have won just 51 games this season to go with 100 losses. Houston has 11 games remaining, meaning it's unlikely they'll lose more than 110 games. Since World War II, only four teams have lost more than 110 games, with the Diamondbacks losing 111 in 2004 and the Tigers losing 119 in 2003.
Houston took an early lead, scoring on an error by Cubs third baseman Aramis Ramirez in the first inning, but Chicago scored on an error by Astros catcher Carlos Corporan in the bottom of the inning and took the lead on Bryan LaHair's second homer of the season in the fourth inning. Henry Sosa picked up the loss, his fifth of the season.
Chicago's Sean Marshall loaded the bases in the ninth inning with one out, but struck out Jose Altuve and got pinch hitter Humberto Quintero to ground out to help the Cubs avoid their 86th loss of the season.
Houston has by far the worst record in the majors this season, with Minnesota (59-90) and Baltimore (61-88) left as the only other teams with a chance of losing 100 games in 2011.
For more baseball news, rumors and analysis, follow @eyeonbaseball on Twitter or subscribe to the RSS feed.