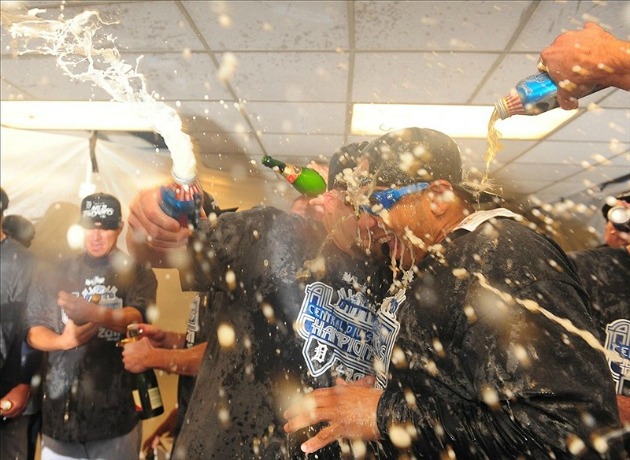 By C. Trent Rosecrans
See that picture of the Tigers celebrating above? Notice what you don't see? Or more importantly who you don't see? That's right, Miguel Cabrera.
The Tigers first baseman -- whose season was almost over before it began because of a bizarre DUI arrest in Florida on his way to Tigers' spring training -- wasn't in the middle of the team's celebration of a division title on Friday.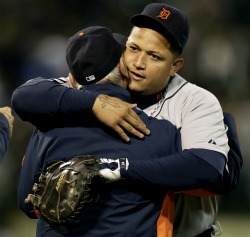 While his teammates poured champagne and beer on one another, MLive.com's Chris Iott talked to Cabrera in another corner of the clubhouse, with a smile on his face and a bottle of water in his hand. Detroit News writer Tom Gage noted that Cabrera celebrated "only with a cigar" while smiling and hugging all of his teammates.
The celebration was a strange reminder of the problems Cabrera has had -- all off the field, as he seems to have little problem on the field. Not only was he arrested in February for driving under the influence, in 2009 his wife called the police to report a domestic disturbance while Cabrera was allegedly drunk the night before a huge game at the end of the 2009 season. The Tigers, Major League Baseball and the players' association set up a program for Cabrera during the seasons with an employee monitoring Cabrera. So far, it appears to have worked.
Cabrera is quietly having another MVP-caliber season, hitting .335/.442/.564 with 26 homers and 97 batted in. He's been even better when there's been a chance to drive in some runs, with runners in scoring position, he's hitting an astounding .397/.527/.662. According to Baseball-Reference.com, his offensive WAR is 7.0, second only to Toronto's Jose Bautista in the AMerican League. He also has a shot at the batting title, just .002 behind Boston's Adrian Gonzalez and is also second in on-base percentage to Bautista and third in slugging, behind Bautista and David Ortiz entering Saturday's games. He's been a rock for the Tigers offensively, playing in 150 of 151 of the Tigers' games this season, starting 149.
And then Friday, with eyes on him, Cabrera apparently enjoyed himself without alcohol -- just as Josh Hamilton and C.J. Wilson did a year ago with the Rangers. Hamilton, who has had his own struggles with alcohol, and Wilson, who doesn't drink, skipped the team's champagne celebration when they clinched a playoff spot and then celebrated their ALDS victory with ginger ale for Hamilton and Wilson, before bringing in the hard stuff. It was a wonderful gesture a year ago, and a show of great teammates.
What happened Friday may have been the sign of maturity for the 28-year-old Cabrera. While some have called for the end of the booze-soaked celebration, Cabrera showed the type of self-control and maturity to just stay away from the substance that has caused him so much trouble. He was an adult, making an adult decision -- no rule or policy telling players what they can or cannot do, just a good decision. And that, as much as the Tigers' first division title since 1987, was certainly something to celebrate.
For more baseball news, rumors and analysis, follow @eyeonbaseball on Twitter or subscribe to the RSS feed.