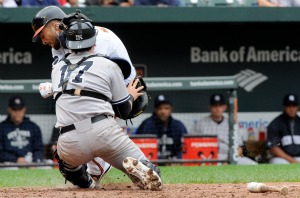 By C. Trent Rosecrans
Yankees backup catcher Francisco Cervelli may not be ready for the playoffs, manager Joe Girardi told reporters on Friday. Cervelli suffered a concussion on Sept. 8 and hasn't played since. Cervelli is scheduled to visit a neurologist next week.
"I think you have to prepare that he won't be (available) only because it's so unpredictable," Girardi told reporters (via New York Daily News). "That's what's so scary because we've seen so many guys miss so much time with them, and they're still missing time. I heard (Justin) Morneau talking about when he dove for a ball at first base, the concussion symptoms came back. You just don't know what's going to happen."

If Cervelli's unable to play in the first round of the playoffs, the Yankees will have to make a choice between two rookies to backup Russell Martin. Austin Romaine is the better defensive catcher of the two rookies, but Jesus Montero has the more potent bat. The two have combined for just 18 big-league innings behind the plate and one start apiece.
Montero, 21, is hitting .286/.359/.571 with three homers and six RBI in 39 plate appearances spanning 10 games (mostly as a DH), while Romine has one hit in four plate appearances in two games. He replaced Montero for the final three innings of Montero's one start behind the plate.
The Yankees, of course, still have Jorge Posada, who can catch, but he's logged just as many innings behind the plate as Montero this season (6), and manager Joe Girardi isn't a huge fan of Posada's skills behind the plate. If he's used as the DH, the Yankees would lost the DH if Martin were to leave a game with injury and he was the only backup.
For more baseball news, rumors and analysis, follow @eyeonbaseball on Twitter or subscribe to the RSS feed.