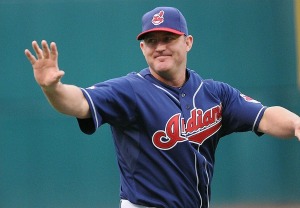 By C. Trent Rosecrans
Slugger Jim Thome said he's unsure if he'll return for a 22nd season.
Upon his return to Minnesota as a part of the Indians, Thome talked about his future with reporters.
"I haven't thought about it," Thome said (via the Plain Dealer). "I'm very blessed that I've been able to play as much as I have this year. Let's face it, teams have to call. You've got to get into the winter and see where you stand with that.
"Once I get home and sit down with my wife, similar to last year, we'll see where I'm at."
After going 2 for 4 with a homer in his return to Minnesota on Friday, Thome is hitting .246/.348/.462 with 14 homers in 86 games for the Twins and Indians this season, numbers down from his bounce-back 2010 when he hit 25 homers for the Twins. Thome signed a one-year deal with Minnesota before the season and waived his no-trade clause to return to Cleveland.
The free agent designated hitter market is one of the toughest to crack based on the number of jobs available. There are just 14 of those gigs and it's not a position that many teams like to platoon, even though Thome has done that the last two seasons. If you can't hit enough to DH against both lefties and righties, most teams will want a more versatile player to round out the roster.
At 41, it will be interesting to see if Thome fits into anyone's plans. With his homer on Friday, Thome now has 603 in his career.
For more baseball news, rumors and analysis, follow @eyeonbaseball on Twitter or subscribe to the RSS feed.