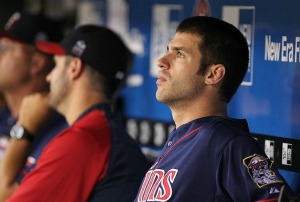 By C. Trent Rosecrans
Joe Mauer's season will end like it started -- out with an illness.
Mauer has been diagnoses with a case of pneumonia and has been told to rest for two weeks -- with just a week-and-a-half left in the season.
Mauer started the season with what the team called bilateral leg weakness and has also dealt with soreness and illness throughout the season, his worst since breaking into the big leagues.
It's been an incredibly disappointing season for both the Twins and Mauer, who finishes the season hitting .287/.360/.368 with three homers and 30 RBI in 82 games -- all of those marks other than RBI are career lows. He had just 17 RBI on six homers in 35 games as a 21-year-old in 2004.
According to the Minneapolis Star-Tribune, Twins manager Ron Gardnehire spoke with Mauer earlier today and said he was "pretty upset."
For more baseball news, rumors and analysis, follow @eyeonbaseball on Twitter or subscribe to the RSS feed.