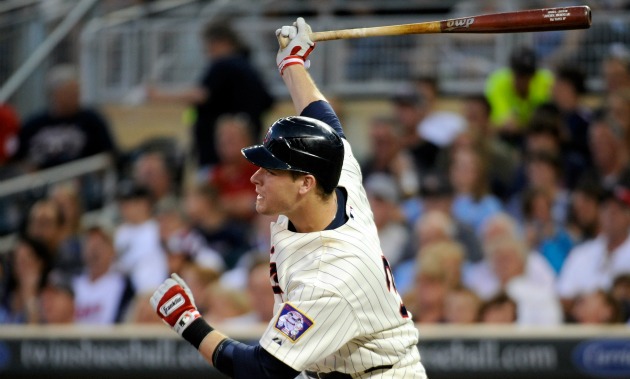 By Evan Brunell

Complications from concussions could push
Justin Morneau
to a DH role as early as 2012, the
Minnesota Star Tribune
writes.
"If that's something I need to do, and if that means being able to hit fourth and help this team win every day, I'll do it," Morneau, who has been out since Aug. 28 with a recurrence of concussion symptoms, said. "The last thing we need is to be out there tentative, and not being able to play the game the way it's supposed to be played."
While the 2006 A.L. MVP winner would love to stay at first, Morneau is more concerned with staying healthy. To that end, he would agree to DH for the team if it meant avoiding concussion symptoms or putting
Joe Mauer
in a better place to succeed. Mauer, who has also been beset by injuries this year, has played 18 games at the position this year, the first time he has played first in the majors.
"Whatever gives us the best chance to win," Morneau said. "If that's me playing first and him catching -- that's kind of why we're both signed here. But we need [Mauer's] bat in the lineup as much as we can. If that means him playing first base once a week, or whatever, let me DH."
Morneau's first concussion came in 2005 when
Ron Villone
of the
Mariners
plunked him in the head. That came on April 6 and caused him to miss 16 games although he was healthy the rest of the way. His second knock came last season on July 7. While trying to break up a double play, Morneau got kneed in the head by Toronto's
John McDonald
, which not only ended his season, but affected his preparation for 2011.
"I did the least amount of work I've done in my career last offseason because I was forced to, and I didn't feel like I was prepared," Morneau said. "I didn't feel as strong as I normally do, I didn't feel ready for the season, and I ended up having neck surgery, which is the last thing I wanted."
Now, after wading through a pinched nerve in his neck that required surgery and a left wrist strain, Morneau's got concussion problems again after diving for a double down the first-base line against the
Tigers
on Aug. 28.
"That's kind of what makes this whole thing scary," Morneau said of the latest aggravation. "It's a simple play, diving for a ball, that brought this stuff back again. So I don't know."
The latest setback has Morneau wondering about his future.
"That's one of those concerns for sure," he said. "I think that's something we'll revisit this winter, if not the next couple weeks, if this stuff continues. You never know. You put your trust in people who have experience who have studied this stuff their whole life and hope they're right."
Morneau has two years remaining on his six-year, $80 million deal. If the Twins opt to DH Morneau, they won't have much difficulty finding room for him. Michael Cuddyer and Jason Kubel, corner outfielders who steal time at first and DH, will be free agents while Jim Thome and Delmon Young are already gone. The first-base/DH/corner outfield glut the Twins have dealt with for some time will not be an issue, which clears the way for Morneau to DH.
Does that mean Joe Mauer plays first? Possibly, but given Mauer's success behind the plate so far and the difficulty finding a viable catcher, it's more likely Minnesota goes after a first baseman next season. If Morneau's success bears out, it wouldn't be too difficult to flip the two first baseman between first and DH. That could actually benefit Morneau, who could work his way back from the concussion as DH on his own timetable, but still give him reps at first.
For more baseball news, rumors and analysis, follow @EyeonBaseball on Twitter or subscribe to the RSS feed.