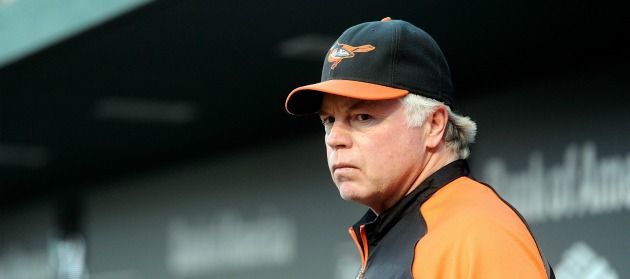 By Evan Brunell

The
Orioles
will undergo a transition this offseason when team president and GM Andy MacPhail leaves the team as is widely expected.
With MacPhail's leaving comes the real question as to who the Orioles will replace MacPhail with. If MacPhail, who has a track record of GMing the
Twins
and
Cubs
in the past, can't succeed in Baltimore under overbearing owner Peter Angelos despite supposedly gaining more latitude than previous GMs have, it's going to be very hard to attract strong GM candidates to Baltimore as an intriguing destination. Also complicating matters is Angeles' adoration of manager Buck Showalter, whom was Angelos' No. 1 pick to become the new O's manager ahead of McPhail's preferred Eric Wedge.
There have been multiple reports from multiple outlets lately that Angelos could kill two birds with one stone by hiring Showalter as GM in addition to managerial duties. It's a position Showalter would be hard-pressed to turn down as it would give him a very prestigious role, and one that isn't commonly seen in baseball. GMs in the past have also been responsible for non-player operations, a duty that generally falls to the president now. And player-coaches were very common in previous generations -- but someone acting as both a GM and manager? You don't see that often.
It might have been more believable way back when before both GMing and managing were demanding of a 24/7 job. In this day and age, it would be awfully hard for Showalter to pull off such a role.
But it could be done.
Anything can be done with the proper reinforcements. If Showalter wants to try his hand at managing and GMing, he needs to realize that his primary focus is going to be on getting ready for the night's game. While he'll inevitably need his coaching staff to step up and assume more work than currently responsible for, where Showalter will need help is in the front office. And in this, Baltimore might actually become a coveted destination for potential GMs.
Showalter's going to need a hands-on assistant GM that essentially functions as GM without the title or final say. Someone needs to field all the trade calls, pore over the minor leagues, prepare contract discussions... there is no shortage of duties attributed to a GM these days to the point where a GM needs as much help as he can get, never mind a manager-GM. Any assistant GM that comes into a team with Showalter as manager-GM will be asked to shoulder a lot more responsibility than an actual assistant GM -- to the point that he would end up acting as a glorified GM. This would be an attractive job because the assistant GM would get more hands-on training and expertise, plus would raise his stock with other teams as a potential GM candidate. Showalter could also elect to have two assistant GMs to help with the load.
At the end of the day, is being both manager and GM a good idea? No.
While Showalter could potentially pull this off with the right support, it seems foolhardy for the Orioles to combine two very important jobs. Showalter needs to pick which avenue he wants to go down, or he'll become just another name in an increasingly-long list of failed Orioles GMs.
For more baseball news, rumors and analysis, follow @EyeonBaseball on Twitter or subscribe to the RSS feed.