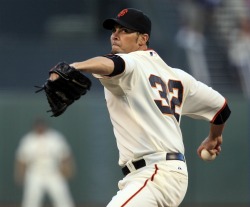 By C. Trent Rosecrans
Earlier today my colleague Matt Snyder wrote about the Comeback Player of the Year awards and also took a look at the top candidates in the American Leaugue. Now it's time to look at the National League.
As Matt noted, the Comeback Player of the Year Award has been sanctioned by the MLB since 2005. It is voted upon by the 30 MLB.com beat writers (one per team). The criteria for the award is incredibly subjective and open to interpretation. Voters are asked to name a player in each League "who has re-emerged on the baseball field during the season."
That's vague -- but that seems to be a recurring theme with baseball awards. There's usually a couple of different type of comebacks -- the comeback from injury, the comeback from poor performance, the old guy and putting together one last hurrah and then the wild cards.
We've got a bit of each of those in the National League, but I'll get to that later. Like Matt, I'll give you the three frontrunners and several others. And once again, it should be noted I don't vote for this and I'm not exactly sure who I would vote for at this point. But here's who is in the running.
The Frontrunners
Carlos Beltran, Mets/Giants
2010 numbers: .255/.341/.427, 7 HR, 27 RBI in 64 games
2011 numbers: .298/.386/.524, 20 HR, 80 RBI in 129 games
Beltran may not win it because of his team's performance, not his. Beltran was supposed to ignite a dormant
Giants
offense, but even a .325/.367/.558 performance with five homers and 14 RBI in his 31 games before Thursday's game were just as advertised, it's just that it hasn't led the Giants to the postseason. The 34-year-old Beltran was the hottest name at the trade deadline because he'd looked like he had finally recovered from the knee surgery that limited him in 2010. Beltran missed 13 games after coming over to the Giants because of a wrist injury, but he's still shown that he has something left in his tank -- and just in time for free agency.
Lance Berkman, Cardinals
2010 numbers: .248/.368/.413, 14 HR, 58 RBI in 122 games
2011 numbers: .290/.404/.551, 30 HR, 86 RBI in 132 games
Berkman looked like he was finished last season, first with the
Astros
and then with the
Yankees
. In the offseason he signed a one-year deal worth $8 million with the Cardinals to play the outfield and there were plenty of skeptics -- myself included. Still, Berkman got into shape and thrived with
Albert Pujols
and
Matt Holliday
. He was an early candidate for MVP, and he may still not be in that discussion, but he's certainly at the forefront for this award. If your definition of a "comeback player" is returning to form, Berkman's the easy pick. If you have a different definition, well, your choice may be...
Ryan Vogelsong, Giants
2010 numbers: 3-8, 4.81 ERA, 1.773 WHIP in 33 games and 14 starts in Triple-A
2011 numbers: 10-7, 2.66 ERA, 1.251 WHIP in 27 games and 25 starts
Vogelsong hadn't thrown a pitch in the major leagues since 2006 and hadn't won a game since 2005 before the start of the 2011 season. When you talk about comebacks, Vogelsong's may not have ever been a great pitcher (he had 10 career victories in 33 career starts before 2011), but he fits the comeback in terms of just coming back to the big leagues. Since 2006 he pitched for two teams in Japan over three years before trying a comeback in the United States in 2010. Vogelsong replaced Barry Zito in the rotation in April and then went 6-1 with a 2.17 ERA before the All-Star break and earned a nod to the All-Star team. He's not been quite as good since then, but he still has a 3.30 ERA in the second half, only to go 4-6 thanks to a sputtering Giants offense.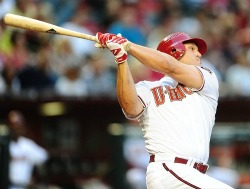 The Others
Sean Burroughs, Diamondbacks. You can put Burroughs in the Josh Hamilton comeback category, except unlike Hamilton, Burroughs had reached the big leagues before he returned from addiction to play. Burroughs, the ninth-overall pick in the 1998 draft, made it to the big leagues at 21 and even hit .298/.348/.365 for the Padres in 2004. However, he was out of baseball by 2006 and battled with substance abuse. As recently as last year, Burroughs was homeless and eating out of garbage cans. His .265/.276/.333 line isn't going to earn him too many accolades, but the fact that he's in the big leagues is as much of a comeback as can be imagined.
Aaron Harang, Padres. Returning to his hometown of San Diego after eight years in Cincinnati, Harang has been the Padres' best starter. After winning just six games in each of the last three seasons with the Reds, Harang is 13-6 with a 3.85 ERA this season. There's no doubt Harang has benefitted from the change of scenery -- and home ballparks, going from homer-happy Great American Ball Park in Cincy to the pitcher's dream of Petco Park in San Diego. Harang is 7-4 with a 3.30 ERA at Petco and 6-2 with a 4.70 ERA away from home.
Todd Helton, Rockies. The 37-year-old Helton was healthy this season after battling a back injury last season, when he hit just .256/.362.367 in 118 games. This season he's hitting .302/.385/.466 with 14 homers and 69 RBI.
Jason Isringhausen, Mets. Isringhausen, 39, had Tommy John surgery in 2009 and signed a minor-league deal with the Reds in 2010, pitching for their Triple-A team in Louisville. He signed a minor-league contract with the Mets -- the team that drafted him in 1991 -- and after a short stint in extended spring training made the team and served as the team's closer for much of the season. Overall, he notched seven saves to get his career total to 300, pitching in 53 games for the Mets and putting up a 4.05 ERA, striking out 44 batters in 46 2/3 innings.
Kyle Lohse, Cardinals. Lohse has always been bit of an enigma -- blessed with immense talent, Lohse can one day look dominating and the next day out of his league. When he did pitch in 2010, he didn't pitch well and then his season was ended in May when he underwent surgery on his right forearm. He's been a staple in the Cardinals' rotation this season, going 13-8 with a 3.62 ERA in 28 starts.
Pablo Sandoval, Giants. San Francisco won the World Series in 2010 with very little help from Pablo Sandoval, who played in just one of the team's World Series games and six postseason games. Well, Sandoval came into camp in shape and has responded, despite missing 40 games with a hand injury. Going into Thursday night's game, Sandoval was hitting .301/.345/.511 -- and then hit for the cycle on Thursday, notching his 20th homer and 25th double.
Jordan Zimmermann, Nationals. The Nationals hope Zimmermann's return from Tommy John foreshadows the recovery of Stephen Strasburg. Much like Strasburg, Zimmerman had to have Tommy John surgery after a promising start to his rookie year, but was then able to return the next season and pitch. While his 8-11 record isn't too impressive, the 3.18 ERA in 26 starts is. With Zimmermann and Strasburg, the Nationals have high hopes for the future.
For more baseball news, rumors and analysis, follow @eyeonbaseball on Twitter or subscribe to the RSS feed.