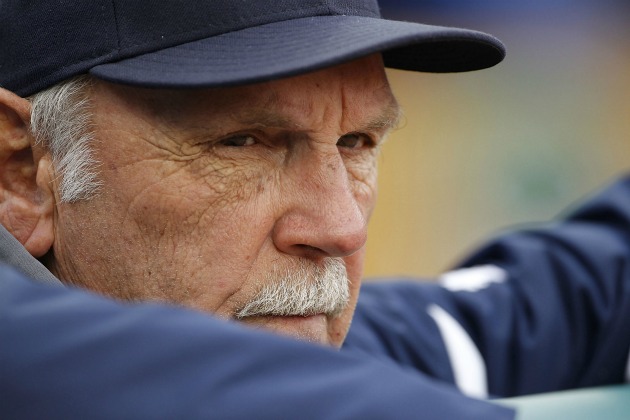 By C. Trent Rosecrans
The 66-year-old manager of the Tigers, Jim Leyland, has been called crusty before, but that's because of his age and his sometimes gruff demeanor. He may be earning the adjective for another reason.
"I will wear these underwear until we lose," Leyland said on Thursday according to MLive.com's Chris Iott. "I can tell you that right now. And they will not be washed. And I don't give a (expletive) who knows it."
Leyland's also not changing his socks and smoking a cigar every day before the game -- as not to mess with a winning streak that had reached 12 games before Thursday night's game and make the air around him as unpleasant as possible. But if you think it's only his office that will have a particular odor, the coaches' locker room probably isn't much better. Wednesday it was revealed in USA Today that hitting coach Lloyd McClendon wasn't changing his drawers either while the team is on a hot streak.
"Guys are getting a little uncomfortable standing next to me now," McClendon told USA Today's Bob Nightengale. "They believe they can't be beat. So if this thing keeps going, it can get ugly."
And smelly.
For more baseball news, rumors and analysis, follow @eyeonbaseball on Twitter or subscribe to the RSS feed.