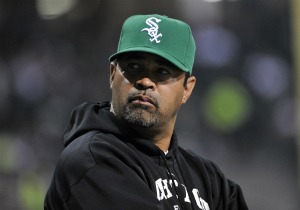 By C. Trent Rosecrans
It's beginning to look more and more like the Ozzie Guillen era with the White Sox is coming to an end.
Not only did FoxSports.com's Ken Rosenthal cite a "source with knowledge of Guillen's thinking" as saying there was only a 10 percent probability that Guillen would return in 2012, there was something more telling from Guillen's own mouth, something so shocking that it can only mean he's looking to leave: support of White Sox general manager Kenny Williams.
Before Chicago's game in Kansas City, Guillen told reporters Williams shouldn't lose his job (which has to mean he doesn't want to be back, right?)
"He did a good job. One thing about it -- all the people in Chicago, they're going to blame Kenny," Guillen said (via the Chicago Tribune). "I remember when we made this club, (everybody) was excited. Don't turn your back on the man. Don't do that. I took the blame yesterday. I think they gave me a good club to manage it. We don't play well? Yes, and we have to [take the] blame. Who? Pitchers, catchers, hitters. No, no. Blame the team, but I'm the one running this club. But don't turn on Kenny. People in Chicago, don't do that."
Rosenthal reported Guillen and Williams' relationship was "unsalvageable," according to the same source. So could his pleas for the White Sox to keep Williams mean that if there's a decision between him or his G.M., he wants Williams to stay and himself out -- and on to Florida?
Guillen said his team had "lost its fight" following Wednesday's loss and it looks like maybe he has too.
For more baseball news, rumors and analysis, follow @eyeonbaseball on Twitter or subscribe to the RSS feed.