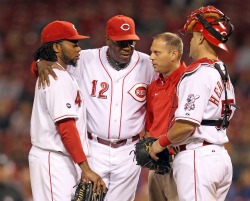 By C. Trent Rosecrans
Reds right-hander Johnny Cueto won't win the ERA title. Not only is he a hundredth of a point behind current leader Clayton Kershaw, Cueto is unlikely to pitch again this season, he told MLB.com's Mark Sheldon and thus fall six innings short of the minimum needed to qualify for the title.
Cueto left Wednesday night's game against the Cubs after just 3 2/3 innings with a strained right lat. He had the muscle examined on Thursday and told reporters he wasn't going to make his next scheduled start Monday against the Astros and his 2011 is probably done.
"I don't know at this point," Cueto told reporters through translator Tomas Vera (via MLB.com). "I want to throw but it hurts. I fell sore. It's painful right now. As the doctor told me, I will most likely lose the next outing but we'll see how it progresses to see if I can pitch one more time."
Cueto said he was still in pain and doesn't think it would be a good idea to push it just to win an ERA title. Cueto's ERA is 2.31, trailing the Dodgers' Kershaw (2.30) by a slight margin.
If Cueto is done for the season, 2011 will go down as a step forward in his career. The 25-year-old right-hander was 9-5 with a 2.31 ERA in 24 starts. He threw 156 innings, struck out 104 with a WHIP of 1.090 and leads the National League with a 169 ERA+. Cueto started the season on the disabled list with right shoulder inflammation and didn't make his 2011 debut until May 8. The Reds entered 2011 with what they believed to be a surplus of starting pitching, but that never really panned out. However, they did find out Cueto was a potential top-of-the-rotation starter, something the team lacked. Edinson Volquez started opening day but was twice demoted to Triple-A during the season. If Cueto is healthy to start next season, he's the team's no-doubt opening-day starter, baring a big free-agent signing or trade.
For their part, the Reds made a good move last offseason buying out Cueto's arbitration years, locking him up through 2014 with a team option for 2015. He made $3.4 million this season in the first year of a four-year, $27-million deal, in what could be a bargain if Cueto returns in 2012 and replicated his 2011 numbers or even continues to improve. In his four seasons, Cueto is 41-37 with a 3.83 ERA.
For more baseball news, rumors and analysis, follow @eyeonbaseball on Twitter or subscribe to the RSS feed.