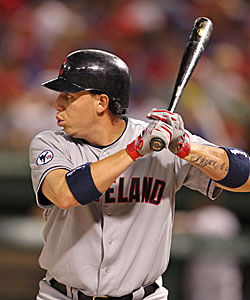 By Matt Snyder
We have officially moved past the two-week warning of this baseball season. In 13 days, it will be the final day of regular season baseball in 2011 and we'll move forward to the playoffs. So let's size up some of the players who have a shot at Major League Baseball's Comeback Player of the Year awards. Here we'll examine the American League, while the National League will be covered later Thursday.
The Comeback Player of the Year Award has been sanctioned by the MLB since 2005. It is voted upon by the 30 MLB.com beat writers (one per team). The criteria for the award is incredibly subjective and open to interpretation. Voters are asked to name a player in each League "who has re-emerged on the baseball field during the season."
OK, so that's easy (please note sarcasm). Re-emerged from what? An injury? Sometimes. A horrible season -- like
Adam Dunn
's 2011 campaign? Maybe. It could really be anything, so it's tough to predict.
Here are the past winners, to help guide us:
2005:
Jason Giambi
, Ken Griffey Jr.
2006:
Jim Thome
, Nomar Garciaparra
2007:
Carlos Pena
, Dmitri Young
2008:
Cliff Lee
,
Brad Lidge
2009:
Aaron Hill
,
Chris Carpenter
2010:
Francisco Liriano
,
Tim Hudson
So we can see it's either a return from injury or futility. Sometimes it's a player who had already returned from injury but hadn't found his past form until a year or more later.
With all this in mind, I believe there are three frontrunners for this year's award. Below those three, I'll list seven others who might have a shot at garnering some support in the voting. Just remember this is pretty difficult to predict due to the incredibly vague and subjective criteria. Also remember I'm not necessarily saying who I'd vote for. I don't have a vote. I'm trying to predict who will win and who is in the running.
The Frontrunners
Josh Beckett, Red Sox
2010 numbers: 6-6, 5.78 ERA, 1.54 WHIP, 21 starts
2011 numbers: 12-5, 2.49 ERA, 0.99 WHIP, 27 starts
Why a "comeback?" Beckett battled a back injury in 2010 and then later in the season badly struggled -- he would go on to say he was overcompensating for his back not being fully recovered. He also had the worst year of his career by many measures. Now he's having his best season by many measures and made the All-Star team for the third time.
Asdrubal Cabrera, Indians
2010 numbers: .276/.326/.346, 3 HR, 29 RBI, 39 R, 6 SB, 97 games
2011 numbers: .268/.328/.449, 22 HR, 82 RBI, 80 R, 17 SB, 142 games
Why a "comeback?" Cabrera fractured his forearm last season and missed a big chunk of time. This season, he would have been in the mix to win MVP at the halfway point. He started the All-Star Game and helped lead the Indians to a surprising first-place standing for a significant part of the season. The fact that both the Indians and Cabrera have tailed off might hurt, though.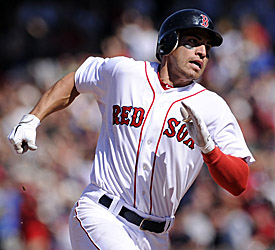 Jacoby Ellsbury, Red Sox
2010 numbers: .192/.241/.244 in just 18 games
2011 numbers: .320/.379/.544, 27 HR, 94 RBI, 109 R, 42 2B, 5 3B, 36 SB
Why a "comeback?" Two sets of broken ribs not only ruined Ellsbury's 2010 season, they also raised questions about Ellsbury's toughness amongst many fans. So much for that. He couldn't have possibly done more this season, even adding the home run to his arsenal. If I had to guess, I'd say Ellsbury runs away with this award, but I'll reiterate it's very difficult to predict.
The Others
Erik Bedard
, Red Sox. Between July 25, 2009 and April 4, 2011, Bedard made zero starts because of a serious arm injury. He's now made 22 starts and been a quality pitcher this season (3.50 ERA, 1.22 WHIP).
Melky Cabrera
,
Royals
. He was awful for the
Braves
last season and many mocked the Royals' acquisition of Melky last winter, but he's shown himself a productive offensive player, setting career highs in almost every major offensive category.
Bartolo Colon
,
Yankees
. He hadn't been useful in long stretches since winning the Cy Young in 2005. Colon wasn't even in baseball in 2010. But he's been productive in several stretches for the Yankees this season.
J.J. Hardy
,
Orioles
. He still hasn't completely shaken the injury bug, but Hardy's back to his 2007-08 power form, with 26 home runs (he had 17 in the past two seasons combined).
Joe Nathan
,
Twins
. The long-time closer missed all of 2010 after having Tommy John surgery. He would have probably either won this award or been neck-and-neck with Ellsbury if he returned to form. Instead, Nathan struggled early and has only gathered 13 saves. That doesn't make his return any less impressive at age 36, though.
Jake Peavy
,
White Sox
. The bulldog battled his way back from a rare medical procedure that re-attached his lat muscle to its insertion point in his shoulder area. He had several bright spots, including a shutout in his second outing back, but overall hasn't been good enough to win.
Carlos Santana
, Indians. His rookie year was cut short by a bad knee injury on a play at home plate, but Santana has returned and swung a power bat this season.
For more baseball news, rumors and analysis, follow @EyeOnBaseball on Twitter or subscribe to the RSS feed.