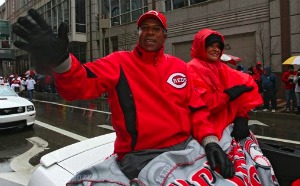 By Evan Brunell

The
Reds
are attempting to get Opening Day moved off of April 6, 2012, which falls on a Good Friday.
Cincinnati is a predominantly Catholic town with 479,000 Catholics in the 19-county Archdiocese, and schools are closed beginning at noon on Good Friday to observe the holiday, which includes fasting. That would preclude people from eating food at concession stands, as well as lend a somber tone to what should be a festive day of the Reds' home opener.
"The biggest thing is it's a conflict of moods," Dan Andriacco, spokesman for the Archdiocese of Cincinnati, told the Cincinnati Enquirer. "Opening Day is a very festive occasion. Good Friday is a key date in our salvation. And although it's called 'Good' it's not a celebratory occasion.
"I don't know if it will cause turmoil or not, but it will certainly be a decision point [for Catholics]."
The Reds also had Opening Day scheduled for a Friday in 2011, but were able to move it to Thursday. Fans are still getting used to the Reds opening the season as the first team to do so, and always on a Monday. That changed in 2010 in an attempt to end the season earlier in order for the playoffs to end earlier instead of bleeding into November or Halloween. Opening Day is such a staple of the city, that constituents are
considering whether or not to deem Opening Day a city holiday
, so the fact that the 2012 date falls on Good Friday isn't winning any fans over.
"At the end of the day, we've got recognize that calendar changes every year," Reds COO Phil Castellini
told the Enquirer
. "And we've got to be comfortable with our the fact that our Opening Day could literally be any day of the week. It's likely to be between a Monday and Friday. What we need to do is make necessary adjustments to continue or traditions regardless of the day of the week."
"We're not wild about a Good Friday Opening Day either," Castellini continued. "The No. 1 thing to know is no matter what it's going to be Reds Opening Day. There's going to be a parade one way or another. It's certainly harder on Findlay Market the closer you get to a weekend. So one or another we'll work around those issues."
The main issue with thee Findlay Market parade, a staple of the city's tradition on Opening Day, is that it begins at 11:30 a.m.. A huge part of the parade comes from a half-dozen Catholic schools who would be unable to participate.
"It will still be the Findlay Market Parade," Castellini said. "The Reds may have to play a much bigger role in putting on parade and there might even be a different area where the parade is staged and launched from. Those are logistic issue we'll have to work through."
The parade and festivities can be figured out if needed, but moving off of Good Friday will prove difficult. The
Marlins
are slated to open their new ballpark on Wednesday, April 4 before flying to the Reds to kick off a series. League rules mandate that any team playing a single-game series must receive a day off the day after, so the Marlins can't fly into Cincinnati and play Thursday.
"I would say to fans: Stay tuned, be patient, we're trying to get something worked out," Castellini said. "We'll find a way to have a great Opening Day with a parade."
This is not the first time the Reds have butted up against religious conflicts. In 1994, owner Marge Schott ordered all Opening Day ceremonies to occur the second game of the year after Opening Day came on Easter Sunday.
For more baseball news, rumors and analysis, follow @EyeonBaseball on Twitter or subscribe to the RSS feed.
Photo: Former Cincinnati Reds hall of famer Frank Robinson and wife Barbara ride in the Findlay Market Opening Day Parade, Monday, April 6, 2009, in Cincinnati. Robinson was grand marshall for the parade.