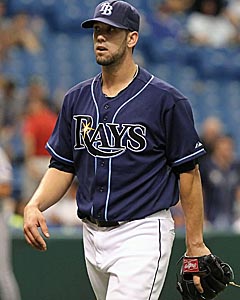 By Matt Snyder
As my esteemed colleague
C. Trent Rosecrans pointed out Monday
, the Manager of the Year award is unavailable for certain managers in any given season. For example, the
Phillies
and
Red Sox
were heavily predicted to make the World Series in 2011. The
Yankees
are the Yankees, and the
Giants
and
Rangers
went to the World Series last season. So right there, Charlie Manuel, Terry Francona, Joe Girardi, Bruce Bochy and Ron Washington are virtually eliminated from the chance at winning the Manager of the Year award in their respective leagues.
It's not necessarily wrong, but it's still fun to imagine if the other awards were decided in the same fashion.
Tuesday, I took a look at the MVP with this twist
. Now, we'll go with the Cy Young Award in each respective league. Remember, expectations disqualify people in Manager of the Year voting, so we're doing that here, just for fun.
Roy Halladay
,
Justin Verlander
,
Jered Weaver
,
Tim Lincecum
,
Felix Hernandez
,
Cliff Lee
and several others aren't in contention because they are already established studs.
Here are three candidates for the Cy Young Award of each league, if voters reacted as they did in the Manager of the Year voting -- along with who I think would win and why.
American League
Doug Fister, Tigers
2010 numbers: 6-14, 4.11 ERA, 1.28 WHIP, 93 K, 171 IP
2011 numbers: 8-13, 3.06 ERA, 1.13 WHIP, 130 K, 197 1/3 IP, 3 CG
Fister was already improved in 2010, but he's been lights out since joining the contending Tigers (2.28 ERA, 0.99 WHIP in eight starts) and helped them build up some incredible momentum in their race to win a division title for the first time since 1987. His deadline deal to the Tigers garnered modest fanfare, but it has ended up being a huge splash and he gives them a bona fide No. 2 behind Verlander in the playoffs.
Justin Masterson, Indians
2010 numbers: 6-13, 4.70 ERA, 1.50 WHIP, 140 K, 180 IP, 1 CG, 1 SHO
2011 numbers: 11-10, 3.20 ERA, 1.25 WHIP, 151 K, 205 1/3 IP, 1 CG
A question mark heading into the season, Masterson developed into the Indians' ace -- at least before the
Ubaldo Jimenez
trade -- as they stormed out of the gates and were in first place for a long time. He's faltered lately (5.85 ERA in his last five starts), but he's only 26 and has a big workload. Also give him major points for drastically lowering home run and walk rates.
James Shields, Rays
2010 numbers: 13-15, 5.18 ERA, 1.46 WHIP, 187 K, 203 1/3 IP
2011 numbers: 15-10, 2.70 ERA, 1.03 WHIP, 210 K, 226 1/3 IP, 11 CG, 4 SHO
So Shields nearly chopped his ERA in half while going from leading the majors in hits and earned runs allowed -- and the AL in home runs allowed -- to leading the AL in shutouts and the majors in complete games. He entered the season with just five complete games and two shutouts in his entire career (which was 151 starts). Just look at those numbers differences. It's utterly staggering.
And the winner is ... James Shields.
Fister would likely get some late support and Masterson's growth has been great to watch, but Shields blows the rest of the field away here. He'd be the
Kirk Gibson of this award
.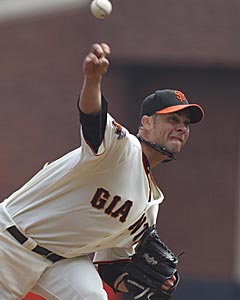 National League
Johnny Cueto, Reds
2010 numbers: 12-7, 3.64 ERA, 1.28 WHIP, 138 K, 185 2/3 IP, 1 CG, 1 SHO
2011 numbers: 9-5, 2.36 ERA, 1.09 WHIP, 102 K, 152 1/3 IP, 3 CG, 1 SHO
Wow, look how he's trimmed that ERA. Cueto has been huge for the Reds this season as they struggled to get anywhere what they thought they would from some other starting pitchers, but he could only do so much on his own.
Ian Kennedy, Diamondbacks
2010 numbers: 9-10, 3.80 ERA, 1.20 WHIP, 168 K, 194 IP
2011 numbers: 19-4, 2.99 ERA, 1.12 WHIP, 182 K, 208 IP, 1 CG, 1 SHO
Sure, the D-Backs being a vastly improved team this year helps the win-loss record, but Kennedy is one of the biggest reasons for the surprise season. He's grown into an ace far quicker than most predicted. In fact, most scouting outlets only had him pegged as a middle-of-the-rotation guy.
Ryan Vogelsong, Giants
2010 numbers: 3-8, 4.81 ERA, 1.77 WHIP, 110 K, 95 1/3 innings ... oh, and these were spread across Double-A and Triple-A.
2011 numbers: 10-7, 2.66 ERA, 1.25 WHIP, 124 K, 162 1/3 IP, 1 CG, 1 SHO
From 2000-06, Vogelsong had a 5.26 ERA and 1.59 WHIP for the Giants and
Pirates
. He then played three years in Japan before returning for an uninspiring season in the minors last year (as you can see above). He the joined the Giants as a 33 year old and was thrown into the rotation due to injury issues in late April. By the All-Star break he was 6-1 with a 2.17 ERA and headed to Phoenix as an actual All-Star. He's one of the better stories in baseball this year.
And the winner is ... Ryan Vogelsong.
You could make a great argument for any of the three, but I'm going with Vogelsong because he came from completely out of nowhere. Cueto and Kennedy at least had hope for big seasons, especially as they should be progressing with more age and experience. Vogelsong was barely even an afterthought entering the year, and no one expected him to ever be a meaningful major-league player.
For more baseball news, rumors and analysis, follow @EyeOnBaseball on Twitter or subscribe to the RSS feed.