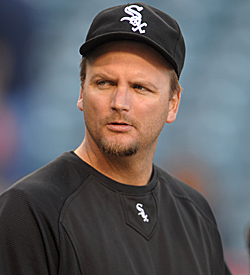 By Matt Snyder
In a poll of 215 major-league players conducted by Sports Illustrated,
White Sox
catcher
A.J. Pierzynski
was voted as the "meanest" player in baseball, taking home 29 percent of the vote.
Phillies
second baseman
Chase Utley
(13 percent), now-jobless Milton Bradley (11 percent), soon-to-be-jobless
Carlos Zambrano
(five percent) and
Dodgers
reliever
Vicente Padilla
(four percent) were the other names that most frequently came up in the poll.
From the SI press release, White Sox manager Ozzie Guillen said the following about Pierzynski: "If you play against him, you hate him. If you play with him, you hate him a little less."
I can't say it's surprising that Pierzynski isn't well liked by his peers. That's been common knowledge for a while ... but, "meanest?" Really?
Isn't this the sign we're getting a little too sensitive as a society? Maybe biggest jerk or most annoying would sound better and yield similar results -- maybe even "biggest antagonist?" -- but "meanest" just has this connotation like we're some child cowering in the corner because classmate isn't very nice and we can't take it. So we'll run home to Mommy and Daddy and tell them about the mean guy. I would hope that if some player specifically said "A.J. is so mean!" that our collective response would be to man up and quit whining. But hey, to each his own.
Now, to be fair, we can't blame the players for answering. They were simply asked a question and answered it. And to be fair to SI, I'm probably overreacting to its attempt to come up with an MLB equivalent to "dirtiest player," which they ask in other sports.
I will say I was quite surprised that Pierzynski beat out the likes of Zambrano and Bradley here, but I'm no player. I guess they'd know better who is "mean."
For more baseball news, rumors and analysis, follow @EyeOnBaseball on Twitter or subscribe to the RSS feed.