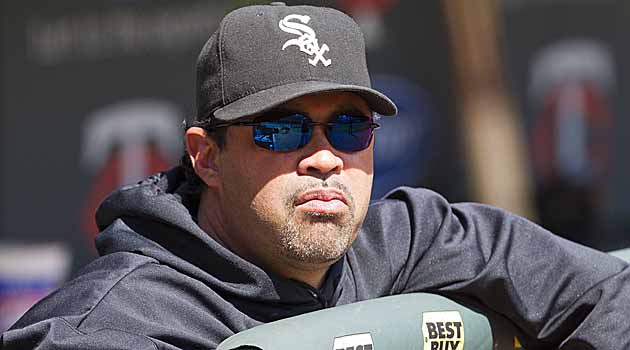 By Matt Snyder
Is there any question this is Ozzie Guillen's last season as the
White Sox
manager? I'd say no.
The latest report is that Guillen emailed White Sox chairman Jerry Reinsdorf two weeks ago and texted general manager Kenny Williams Tuesday morning. He received replies from neither (
Chicago Sun-Times
). Granted, I've never been a major-league manager (I'm willing to give it a shot, if any GMs are interested), but I'm gonna go ahead and guess that being ignored when trying to correspond with your bosses is a pretty bad sign.
Remember, in recent weeks
Guillen said he wanted to stay in Chicago
, but
not without a contract extension
. And there was a report that indicated the
relationship between Guillen and Williams had been irreparably damaged
.
Guillen said he's ready for anything.
''My family is ready for everything,'' he said Tuesday (
Chicago Sun-Times
). ''It's like when a hurricane is coming and they say, 'Hey, it's Venezuela now, and it's going to be in Miami in seven days.' We pack everything, we have everything set up, for good or for bad.''
The two cities he used in his example aren't just gathered at random. Venezuela is his home country. He also owns a home in Miami, but ... what else is there? Why, the
Marlins
, of course. A team Guillen helped coach to the 2003 World Series championship before being hired by the White Sox as manager. It's also a ballclub that is said to covet Guillen and is looking for a new manager this offseason before moving into a nice, new home.
It makes too much sense, doesn't it?
Tempers (kind of) flare in L.A.:
So
Dodgers
reliever
Hong-Chih Kuo
threw an errant (and it appeared accidental) pitch near the head of
Diamondbacks
outfielder
Gerardo Parra
. And then Parra hit a home run and took his sweet old time starting his home run trot. And then Dodgers catcher
A.J. Ellis
said a few words as Parra crossed the plate -- he looked more annoyed than angry, for whatever it's worth. A few Dodgers and Parra yelled back and forth while it appeared D-Backs manager Kirk Gibson said a few things, too, but then benches were warned and nothing else happened. I have to say, I'm with Ellis on this. I was watching live and sitting here thinking that it's just lame. Enough with the posturing. Play baseball.
Exit strategy?
Potential new
Astros
owner Jim Crane has yet to be approved, even though it should have happened back in August. The approval process has been continually delayed and there are two separate camps of reports as to what the holdup is. One side says that Crane needs to accept a move to the American League West -- which would clear the way for season-long interleague play and likely an additional playoff team -- and the other says that this is not the specific holdup.
Biz of Baseball
wonders if Crane is just seeking a way out without being turned away by the MLB due to character concerns that have been raised during the approval process. In other words, if he backs out and uses not wanting to move to the AL as his reason, he was never turned down and saves face.
Braun accountable, even in victory:
"Tonight was not a pretty game ... We didn't play well ... I think I probably played my worst 10 innings of baseball of the year ... I don't think we really deserved to win ... we really didn't play a good basball game." Those quotes are all cherry-picked from
Ryan Braun
's post-game comments (
Brewers
Blog). Oh, by the way,
Braun hit a walk-off home run
to win the game in the 11th. And in the parts of the above quotes I removed, Braun was saying to give all the credit to the pitching staff for keeping them in the game (the final score was 2-1). We're big fans of accountability here, so major points to Braun for not forgetting the rest of the game just because the team pulled out a victory. He could have easily only focused on being the hero in the 11th, instead he owned up to playing poorly for most of the night and instead wanted the pitchers to be viewed as the heroes of the game. That's an MVP teammate. While we're here,
CBSSports.com's Scott Miller has a great feature on the Brewers. Check it out
.
Great day for stat-heads:
SeamHeads.com
has now finished work on a Negro League database, so you can search for stats from players like
Oscar Charleston
, who by many accounts was one of the best players to ever play the game -- he just never had a chance to do so on the big stage due to unfortunate bigotry.
Mauer understands backlash:
Joe Mauer
has made quite a few commercials in the past few years and he has received some criticism over them during this season -- easily the worst of his career. He said that he understands this and he's not going to take on any more commercials for the time being (
StarTribune.com
).
Some "Moneyball" reviews:
Here's a
glowing review of the upcoming movie
... and here's a
not-so-great review
(he does say it's entertaining, just questions the direction taken). While I greatly respect the work of both writers, I don't really care what anyone says. I'm seeing it. If I don't like it, that's on me.
St. Louis North?
The
Chicago Sun-Times
floats a rumor that has the
Cubs
landing
Reds
' general manager Walt Jocketty -- who used to be the
Cardinals
' GM -- and then bringing Tony La Russa to manage the Cubs ... and then signing free-agent-to-be
Albert Pujols
. Of course, the report only said "could" and mentioned it was a scenario floated only on the Cubs' end, not mentioning whether or not all three parties would be interested in this. I personally think I have a better shot at winning the lottery than this happening.
No surgery for Dickey:
Mets
starting pitcher R.J. Dickey has suffered from a partially torn plantar fascia most of the season, but it has subsided enough that he won't need surgery this offseason. (
MLB.com
)
Happy Anniversary:
On this day 25 years ago, Bo Jackson launched his first career home run ... all 475 feet of it. Also, Hall of Famer Hank Greenberg made his major-league debut 81 years ago and on this day in 2008,
Carlos Zambrano
threw his only career no-hitter. If you'll recall, it was a game in Milwaukee against the Houston Astros, as a hurricane moved the series. (
Hardball Times
)
For more baseball news, rumors and analysis, follow @EyeOnBaseball on Twitter or subscribe to the RSS feed.