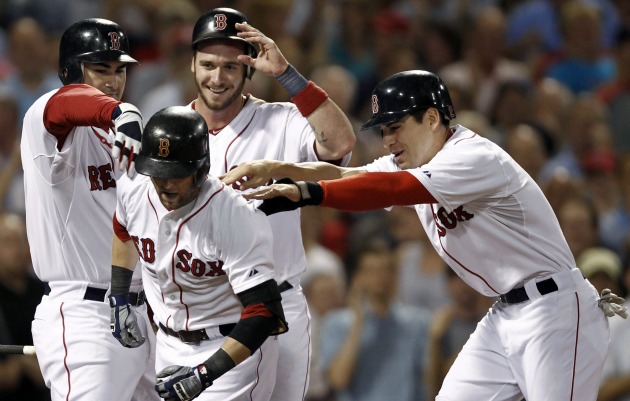 By Evan Brunell

On the backing of an offensive explosion from
Dustin Pedroia
and
Jacoby Ellsbury
, the
Red Sox
gave
Tim Wakefield
his 200th career victory as Boston stomped on the
Blue Jays
18-6.
Combined with 4-2 loss by the
Rays
, the Red Sox have now moved to four games ahead in the wild card, adding significant breathing room to the proceedings for the Red Sox. The Rays and Red Sox still have a four-game set coming up on Thursday that can still turn the wild-card race on its ear, but a four-game deficit this late into the season is a tough task. The Red Sox and Rays both have 15 games left. If the Sox go just 7-8, the Rays need to go 15-3 the rest of the way to win the wild card. That's a lot to ask, especially with the grueling schedule the Rays have the rest of the way.
After Wednesday's series finale against the
Orioles
, the Rays have seven games against the
Yankees
, four against the Red Sox and three against the dangerous Jays. That's a lot of competition to go up against. The Red Sox also face the Rays and Yankees, but only seven times combined with an additional seven against the Orioles. Suffice it to say that unless the Rays can really shake the Red Sox in the upcoming series, this race is effectively over.
Boston Red Sox

85-61
Schedule remaining: 1 v. TOR, 4 v. TB, 4 @ BAL, 3 @ NYY, 3 @ BAL
Coolstandings.com expectancy of wild card: 79.5 percent

Tampa Bay Rays

82-65, 4 GB
Schedule remaining: 1 @ BAL, 4 @ BOS, 4 @ NYY, 3 v. TOR, 3 v. NYY
Coolstandings.com expectancy of wild card: 8.5 percent
For more baseball news, rumors and analysis, follow @EyeonBaseball on Twitter or subscribe to the RSS feed.