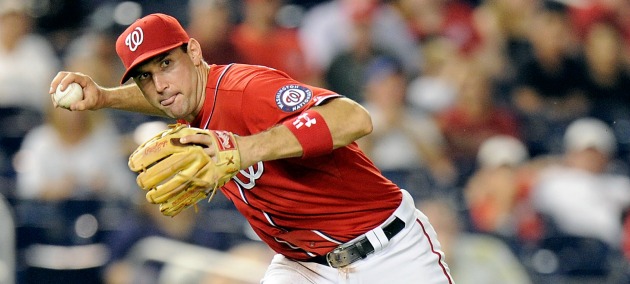 By Evan Brunell


Ryan Zimmerman
did something unusual earlier this season -- he changed his throwing mechanics on the fly.
Throwing more over-the-top than sidearm, the new motion has allowed Zimmerman to reduce the stress on his core, transferring it to his legs. Given that Zimmerman had ab surgery earlier this season, which knocked him out for just over two months, any change that reduces stress on the core is good news. And Zimmerman feels he's a better player for it, too.
"It's more consistent and it's more efficient," Zimmerman told the
Washington Post
. "It's going to help the longevity – I plan on being a third baseman for a long time, and when I'm done, being one of the best third basemen who played for a long time. A lot of people have a couple good years. There's nothing bad about that – it's hard to have one good year. If you do little things to change your style through your career, and it's going to help you be a better player for a longer time, that's the goal. That definitely is one of the reasons I did it."
Zimmerman struggled to control his throwing early on, making four throwing errors in a span of 10 games at once and looking awkward in delivering tosses. He's warmed up, though, and has committed just two throwing errors since the start of August.
"The first month or so was tough," Zimmerman said. "Any time, learning anything new is tough. To do it in front of 30,000 people every night is a little bit more awkward. You know people are watching. That's a thing I had to do, and I'm proud of the way I worked and get better at it. It's not that I felt uncomfortable. But my level of comfort might not have been as high. But now, I think I'm more comfortable now that I was before."
With a batting line of .294/.354/.462 on the year, it hasn't been one of Zimmerman's best seasons. It still ranks as great numbers out of the hot corner, especially when paired with his excellent defense that has only gotten better.
"I'm very happy with how far I've come this year," Zimmerman said. "Now I can kind of carry this momentum and use it in the offseason to be even better next year. From where I was to where I am now, I'm very happy with the way it's gone."

For more baseball news, rumors and analysis, follow @EyeonBaseball on Twitter or subscribe to the RSS feed.