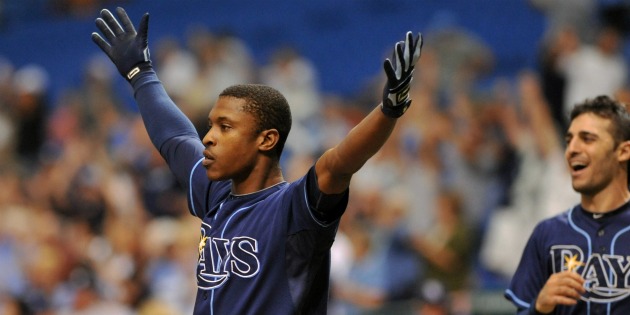 By Evan Brunell

B.J. Upton
spoke to Craig Heist of WTOP (
via MLB.com
) in Washington on Tuesday, indicating that he wanted to stay with the
Rays
, but would also love to play in Washington. Interestingly enough, Upton also mentioned the
Mets
as a potential bonus to playing in the NL East.
"If I'm not, playing in Washington would kind of be playing close to home. I just want to play anywhere. … Since you brought up Washington, it would be kind of cool to play close to home and definitely play with the guy in Ryan Zimmerman that I played with growing up," Upton said. "That would be kind of a cool thing. I've known him for a long time. … To be on the team with him and playing in the division [against Mets third baseman] David Wright, who I also grew up with, that would be a cool thing, but right now, my heart is with the Rays."
The Rays seem a lock to trade the center fielder in the offseason as he enters his final season of arbitration. Tampa had solicited offers at the trade deadline for the slugger, but couldn't agree on anything. With a rising salary, Upton is a prime candidate to be moved, especially as the Rays undershoot financial projections. Washington hasn't been secret in its desire for a long-term center fielder, believing Upton could be that man.
But now that Upton has mentioned the Mets, it's fair to wonder if that could end up a possible destination. The Mets play in a large market, which is enticing to many players, plus it would be near Upton's home of Virginia. While the Nats are obviously closer, the Mets are not especially far, plus would visit Washington quite a few times during the season. Add in the fact that Upton appears to be interested in playing against Wright (so why not
with?
), then the Mets could have a chance for Upton's services.
However, that chance will likely come in free agency, not trade. As a rebuilding team, it wouldn't make much sense for New York to deal prized prospects for Upton, despite being just 27 years old. But as the Mets increasingly appear to be looking past 2012 toward 2013, Upton's hitting the free-agent market after next season is just in time for New York's ability to get back into the big-contract business. The 2013 class is looking quite healthy, as
Josh Hamilton
,
Michael Bourn
,
Matt Kemp
,
Shane Victorino
,
Andre Ethier
and
Carlos Quentin
all project to be free-agent outfielders. That would only help the Mets more, who could make a play for Upton or any other outfielder and pay less due to the ample supply available.
The odds remain that Upton winds up with the
Nationals
, because both sides clearly have an interest in doing so. But given Upton's comments, don't count out the Mets.
For more baseball news, rumors and analysis, follow @EyeonBaseball on Twitter or subscribe to the RSS feed.