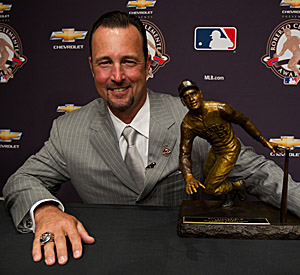 By Matt Snyder
Major League Baseball issued a press release Tuesday afternoon that revealed the one nominee from each team for the Roberto Clemente Award. The award has been given annually beginning in 1971 to the player "who best represents the game of baseball through positive contributions on and off the field, including sportsmanship and community involvement."
The award was originally known as the Commissioner's Award, but was renamed in 1973 for Clemente. He was a 12-time All-Star when he died in a plane crash on his way to provide aid to earthquake victims in Nicaragua. He's now a Hall of Famer and truly one of the game's biggest legends, for his work both on and off the field.
"On behalf of Major League Baseball, I thank this year's nominees of the Roberto Clemente Award for their exceptional dedication to giving back to their communities," commissioner Bud Selig said in the press release. "Roberto Clemente was a legendary baseball player, but what he accomplished off the field made him a true hero in his extraordinary life. Major League Baseball is proud that our players continue to follow in his footsteps, and we are honored to preserve his legacy of making a difference in our world through the game's most prestigious off-field award."
Here are the finalists for each ballclub:
Diamondbacks
-
Joe Saunders
Braves
-
Tim Hudson
Orioles
-
Adam Jones
Red Sox
-
David Ortiz
Cubs
-
Ryan Dempster
White Sox
-
Juan Pierre
Reds
-
Jay Bruce
Indians
-
Justin Masterson
Rockies
-
Troy Tulowitzki
Tigers
-
Justin Verlander
Marlins
-
Gaby Sanchez
Astros
-
Jason Bourgeois
Royals
-
Billy Butler
Angels
-
Torii Hunter
Dodgers
-
Clayton Kershaw
Brewers
-
LaTroy Hawkins
Twins
-
Michael Cuddyer
Mets
-
Mike Pelfrey
Yankees
-
CC Sabathia
Athletics
-
Josh Willingham
Phillies
-
Ryan Howard
Pirates
-
Jeff Karstens
Cardinals
-
Albert Pujols
Padres
-
Orlando Hudson
Giants
-
Jeremy Affeldt
Mariners
-
Felix Hernandez
Rays
-
James Shields
Rangers
-
Michael Young
Blue Jays
-
Ricky Romero
Nationals
-
Ian Desmond
Tim Wakfield of the Red Sox won last season (he's pictured above with his trophy). Other active players who have won the award before are Pujols,
Derek Jeter
and
Jim Thome
.
Fans get a vote in this thing --
click here and go cast your vote
. The winner of fan vote gets one vote while nine other individuals -- including Selig and Clemente's widow -- also have a vote. Fan voting ends October 9.
For more baseball news, rumors and analysis, follow @EyeOnBaseball on Twitter or subscribe to the RSS feed.