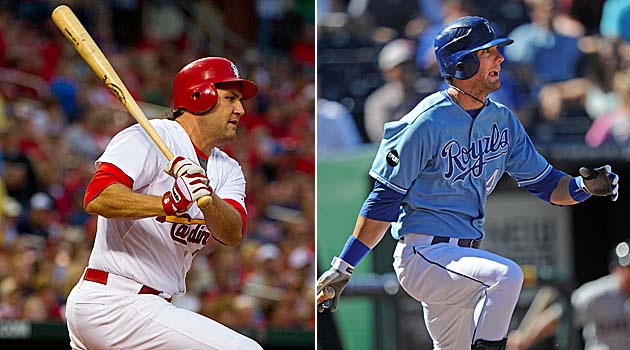 By Matt Snyder
As my esteemed colleague
C. Trent Rosecrans pointed out Monday in a really creative and entertaining way
, the Manager of the Year award is routinely roped off for certain managers. For example, heading into this season, the
Phillies
and
Red Sox
were heavily predicted to make the World Series. The
Yankees
are the Yankees, and the
Giants
and
Rangers
went to the World Series last season. So right there, Charlie Manuel, Terry Francona, Joe Girardi, Bruce Bochy and Ron Washington are virtually eliminated from the chance at winning the Manager of the Year award in their respective leagues.
I'm not saying it's right or wrong, because managing is far different from playing. It's totally apples vs. oranges. But it's fun to imagine if the MVP awards were decided in the same fashion.
Albert Pujols
and
Alex Rodriguez
would have zero chance at winning. Former winners like
Joey Votto
,
Josh Hamilton
and
Dustin Pedroia
? Sorry. Heavily predicted 2011 winner
Adrian Gonzalez
? Cross him off. Sluggers
Miguel Cabrera
,
Ryan Braun
and
Ryan Howard
? Nope, you guys are supposed to hit for all that power.
Instead, the candidates would be guys having amazing seasons that we might not have expected. Like Kirk Gibson being the runaway NL winner over Manuel. For example,
Jose Bautista
would have easily won last season in the AL.
Here are four candidates for the MVP of each league, if voters reacted as they did in the Manager of the Year voting -- along with who I think would win and why.
American League
Alex Avila, Tigers
2010 numbers: .228/.316/.340, 7 HR, 31 RBI, 28 R, 12 2B
2011 numbers: .302/.392/.523, 18 HR, 74 RBI, 60 R, 31 2B
The best part about these numbers is they came from out of nowhere. Avila only hit .264 with an .814 OPS in his only season of Double-A. It's not awful, but those are hardly the type of numbers that scream future All-Star. And Avila's likely to get some real MVP votes this year (remember, each ballot gets 10 entries). Don't discount what kind of stamina he has to have to catch 120 games and still keep hitting like this, either. It's been an absolutely stellar campaign for Avila, and he's going to be a starting catcher in the playoffs.
Jacoby Ellsbury, Red Sox
2010 numbers: Doesn't matter, it was a lost season due to injuries. He only played 10 games.
2011 numbers: .317/.376/.533, 26 HR, 91 RBI, 104 R, 36 SB, 41 2B, 4 3B
He's got a real shot at the real MVP, and it's all due to his power increase. The average, OBP, doubles, triples, runs and steals aren't surprising at all, if you go back to Ellsbury's numbers pre-2010, and he's only 28. So we knew he had a real shot to drastically improve -- but he's approaching 30 home runs and 100 RBI. No one would have predicted that.
Alex Gordon, Royals
2010 numbers: .215/.315/.355, 8 HR, 20 RBI, 34 R, 10 2B, 1 SB (only 74 games due to demotion to minors and injury)
2011 numbers: .299/.371/.500, 21 HR, 82 RBI, 95 R, 45 2B, 16 SB
This wouldn't have been surprising in 2007 ... or 2008 ... or 2009 ... or maybe even 2010. But after four relatively failed seasons in the face of lofty expectations, people kind of gave up on Gordon. He went from a No. 2 prospect in all of baseball to an afterthought. And just when people gave up on him completely, he broke through in a huge way. Those 45 doubles lead all of baseball and he's doing pretty much everything well.
J.J. Hardy, Orioles
2010 numbers: .268/.320/.394, 6 HR, 38 RBI, 44 R
2011 numbers: .264/.304/.483, 26 HR, 68 RBI, 65 R
This is a return to where Hardy was in 2007 and 2008, though his home run rate is the highest it has ever been. He worked his big season into a multi-year contract extension for the Orioles and has solidified the middle infield.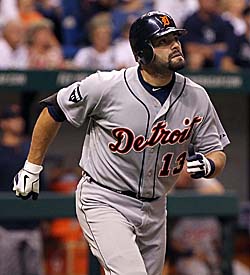 And the winner is ... Alex Avila
. It's a really close call over Gordon. With Ellsbury, I believe we all knew the potential was in there and injuries killed him in 2010. The power increase is nice, but Avila and Gordon are more surprising. Hardy's done it before and he's not old. Plus, his numbers pale in comparison to these other three. Sure, Gordon has far exceeded expectations, but I think if you asked most people before the season who was more likely to impress this year between Gordon and Avila, Gordon would be the answer simply based upon minor-league pedigree. That kind of talent doesn't just abandon someone. Gordon starred -- albeit years ago -- but Avila had never hit enough to believe this kind of monster season was possible. I could easily be wrong on this decision, though, as this is total guesswork. To reiterate, it's
really
close.
National League
Lance Berkman, Cardinals
2010 numbers: .248/.368/.413, 14 HR, 58 RBI, 48 R
2011 numbers: .290/.405/.551, 30 HR, 86 RBI, 79 R
The newly slender "Fat Elvis" shed loads of pounds this past offseason as he was determined to revert back to vintage "Puma." He did. Many mocked the signing by the Cardinals, especially as Berkman had to return to right field. Well, he hasn't been good defensively, but he's swinging the bat like he did back in his prime and the protection he's provided to
Matt Holliday
and Albert Pujols has been instrumental in keeping the Cardinals in contention for much of the season.
Matt Kemp, Dodgers
2010 numbers: .249/.310/.450, 28 HR, 89 RBI, 82 R, 19 SB
2011 numbers: .318/.397/.566, 33 HR, 108 RBI, 97 R, 38 SB
If he doesn't win the real MVP award it won't be because he didn't do enough for his team. It will be because his team didn't do enough for him. Kemp has absolutely carried the Dodgers' offense this season in every facet. He has an outside shot at the triple crown and the 40/40 club, but he'd have to get scorching hot. Still, from a guy who didn't even hit .250 last season, this has been a rebirth. On the flip-side, we knew Kemp had this potential.
Pablo Sandoval, Giants
2010 numbers: .268/.323/.409, 13 HR, 63 RBI, 61 R
2011 numbers: .301/.345/.516, 19 HR, 60 RBI, 50 R
If the counting stats don't look overly impressive this year, that's because he's only played in 103 games. Last season it was 152. He was so disappointing in 2010 that he only started five playoff games -- just once in the World Series. It's been a huge bounce-back season for Sandoval, despite the fact that his team has regressed a bit.
Justin Upton, Diamondbacks
2010 numbers: .273/.356/.442, 17 HR, 69 RBI, 73 R, 27 2B, 18 SB
2011 numbers: .296/.378/.547, 30 HR, 86 RBI, 100 R, 38 3B, 21 SB
Here's another guy who will get real-life MVP consideration. While 2010 was a disappoining campaign, this is the Upton the D-Backs drafted first overall in 2005. Look at the number jumps across the board for Upton, and he's still only 24. And his team appears headed for the postseason. Like Kemp, however, we knew this was inside Upton.
And the winner is ... Lance Berkman
. The other three players are young and have tons of potential, so their big turnarounds aren't entirely surprising, even if incredibly impressive. At least Upton, probably Kemp and maybe Sandoval were all predictable to have seasons like this. Kemp was definitely a bounce-back candidate, but not many would have envisioned him to be
this
huge in 2011. Berkman is 35 and many believed he was done as a productive major leaguer -- especially since the Cardinals were moving him back to the outfield. This one feels obvious, as opposed to the Avila/Gordon decision, which I'm still second-guessing ...
Wednesday: What if the Cy Young was decided with Manager of the Year criteria?
For more baseball news, rumors and analysis, follow @EyeOnBaseball on Twitter or subscribe to the RSS feed.