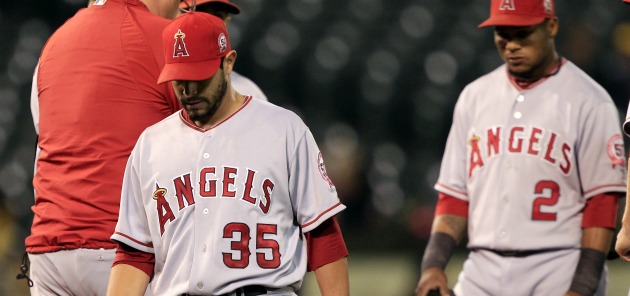 By Evan Brunell

For quite some time now, the only race worth paying attention to was the
Angels
' spirited bid to keep pace with the
Rangers
. Even Los Angeles was left for dead once and executed a comeback. But now that the NL wild card is stirring and the
Rays
have barrelled to a three-game deficit in the AL wild card, the AL West race is no longer lonely. And now, with Los Angeles dropping a game to the
Athletics
, the AL West deficit is three games -- the same deficit the Rays face to overtake the
Red Sox
.
A year after being a dependable rock in the rotation fresh out of St. Louis rejuvenation for the Angels,
Joel Pineiro
has been one of his liabilities. His ERA is now 5.33 after his latest try against the A's, allowing five runs in three innings, three in the first off the bat of
Josh Willingham
. He was chased from the game in the fourth, after two RBI singles pushed the A's lead to 5-1 in an eventual 6-3 victory. Meanwhile, Texas opens a series against the fading
Indians
, so the odds aren't looking good for L.A., who has had to scratch and claw all season long and has to go up against a tougher brand of opponent than the Rangers, who have a cushy schedule until the final three-game set of the season -- against the Angels.
Texas Rangers
84-64
Schedule remaining: 3 v. CLE, 3 @ SEA, 3 @ OAK, 3 v. SEA, 3 @ LAA
Coolstandings.com expectancy of division title: 85.1 percent
Los Angeles Angels
80-67, 3 games behind
Schedule remaining: 2 @ OAK, 3 @ BAL, 4 @ TOR, 3 v. OAK, 3 v. TEX
Coolstandings.com expectancy of division title: 16.1 percent
For more baseball news, rumors and analysis, follow @EyeonBaseball on Twitter or subscribe to the RSS feed.