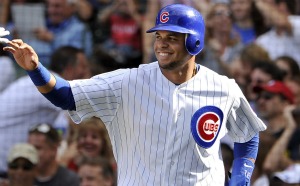 By Evan Brunell

Aramis Ramirez
believes he deserves a contract worth more than the one year, which he may have to play under for 2012.
"If I hit the marketplace I should end up with a two- or three-year deal," Ramirez told ESPNChicago.com. "The reason is, there aren't a lot of third baseman available this offseason. But if [Cubs officials] approach me, I'm sure we can get something done. But probably not for one year."
The team holds an option on the third baseman for 2012 at $16 million with a $2 million buyout if they decline it (so really, Ramirez is valued at $14 million). Ramirez is able to decline the team's option and become a free agent, which he is expected to do so during an offseason where he will be seeking his final big payday at age 33. With a lack of strong offensive third basemen on the free-agent market, Ramirez certainly could earn a three-year deal on the market after hitting .303/.357/.504 with 24 homers in 583 plate appearances during a resurgent season.
"My priority has always been to stay with the Cubs," Ramirez added. "But, right now, we don't even have a GM to make any decisions. So I hope we finish strong the next two weeks and then we'll see what happens.
"A one-year thing is not ideal. Every player wants to be in place for at least two or three years. But the one-year stuff, that's kind of tough to do. But I do want to stay with the Cubs if I can."
For more baseball news, rumors and analysis, follow @EyeonBaseball on Twitter or subscribe to the RSS feed.