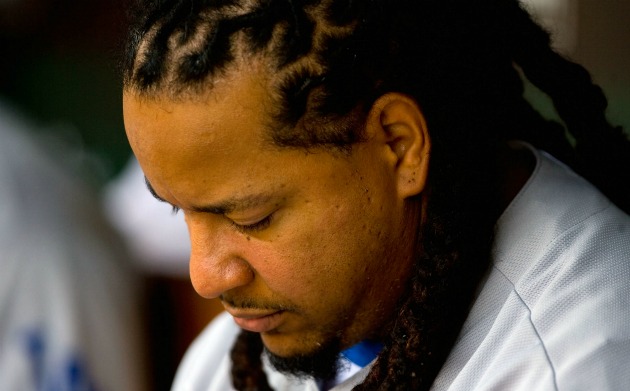 By Evan Brunell

Manny Ramirez has been arrested in Florida and has been booked into custody, allegedly commiting a crime of battery on his wife, police announced according to the Associated Press.
Ramirez was removed from his Weston, Fla., home in handcuffs around 7 p.m. after he allegedly slapped his wife Juliana in an argument. She alleges she fell and hit her head on the bed's headboard, and then called police when she became afraid the situation would escalate. She later left the home after Ramirez was removed in a police car. He claims he did not hit her, that she hit her head when he shrugged her. The police say that the injuries sustained by Juliana are consistent with her story. She declined medical treatment.
TMZ has posted Ramirez's mug shot
.
Ramirez retired suddenly in the spring after he tested positive for the second time for performance-enhancing drugs, which would have earned him a 100-game ban had he remained in the game. Instead, the 39-year-old left after collecting just one hit in 17 trips to the plate. Ramirez was one of baseball's best hitters in the 1990s and 2000s, beginning with Cleveland before winning two World Series rings with the
Red Sox
. After forcing himself out of town in the final year of his eight-year, $160 million deal with Boston, Ramirez landed in Los Angeles with the
Dodgers
until partway through 2010, when he finished the year up with the
White Sox
. It was with the Dodgers that Ramirez received his first suspension for performance-enhancing drugs after reportedly testing positive in a sealed 2003 test. Ramirez hit 547 home runs in his career.
For more baseball news, rumors and analysis, follow @EyeonBaseball on Twitter or subscribe to the RSS feed.