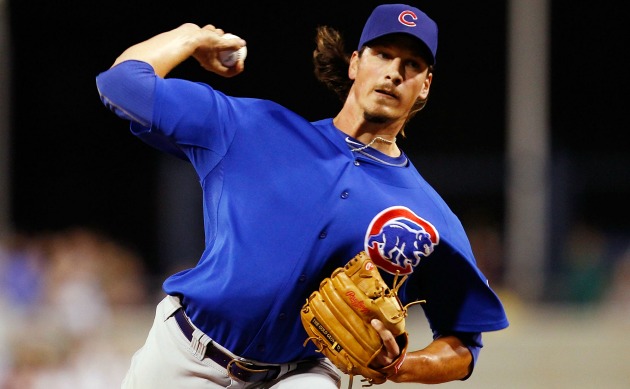 By Evan Brunell

Jeff Samardzija
has struggled to settle in with the
Cubs
after being selected in the 2006 draft and passing up a career in football.
The righty has predominantly pitched out of the 'pen during his tenure with the Cubs despite coming up as (and campaigning to be) a starting pitcher. The last two years, though, the 26-year-old didn't show he would be a viable pitcher, let alone starter, in the majors. Spending much of the year in the minors, he posted a 7.83 ERA in 54 innings for the Cubs in stints across 2009-10. This season, though, he's turned things around by impressing out of the bullpen with a 3.12 ERA in 83 2/3 innings, including a 2.53 mark in the second half.
"He's gotten really good the second half commanding his pitches, throwing a second pitch for a strike, with less pitches per inning, so his value is going up,'' pitching coach Mark Riggins told the
Chicago Sun-Times
, ''and it makes you think a little bit more for next year, could he throw six or seven innings and keep the pitch count [down]?"
The Cubs aren't going to rush to a decision, as offseason trades and free agency will influence who enters 2012 as part of the Cubs rotation, but having an internal candidate who could fill the breach is intriguing. With only
Matt Garza
,
Ryan Dempster
and
Randy Wells
certain to be part of the rotation next season, there's a real chance for the former Notre Dame standout to contribute -- but you won't hear him agitating to do so.
''I've probably approached it the wrong way over the past couple years in wanting to be a starter and being open about it,'' Samardzija said, ''but that's been in my heart since I signed to come play baseball. What the future holds I don't know. But I feel I have a lot to offer and even more to offer to the starting rotation.
''I realized this year that I needed to prove that. I needed to prove to the coaching staff and this team that I deserve and earned a bigger role on this team.''
Key to Samardzija's resurgence has been a reduced walk rate. After three months of allowing a walk rate well into the double-digits, Samardzija has been able to stay under that line the rest of the way. Key to the resurgence and improved command is being able to locate his fastball effectively, which has gone from being a liability in years past to a solid weapon to pair with his slider and split-fingered fastball, as well as an improved cutter.
"It would be very gratifying as a baseball player as a whole [to get a chance to start], because being one of those five guys is a very big, very important part of everything,'' Samardzija added. "But I understood what they wanted to do with me this year .  .  . and it's meant a lot to me to know my role and grow as a pitcher.
"I still feel like the ceiling's still up there. I've got a lot left to go, and that's exciting or me personally."
For more baseball news, rumors and analysis, follow @EyeonBaseball on Twitter or subscribe to the RSS feed.