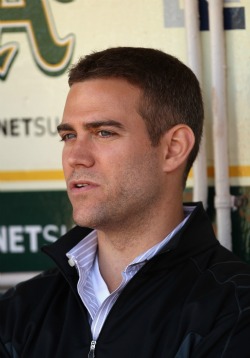 By C. Trent Rosecrans
Boston's David Ortiz says it's time to panic, but general manager Theo Epstein said he welcomes playing the Rays four more times over the season's last two weeks.
Appearing on Boston's WEEI, Epstein said the team is struggling, but it's an opportunity to turn it around. But if they don't do it, they don't deserve to be in the playoffs.
"I'm glad we play the Rays four times coming up. If we can't right the ship against these guys, if we can't do what we need to do, we probably don't deserve to get into the postseason," Epstein said. "As much as this looks like a crisis from the outside and obviously has not been fun on the inside, this is an opportunity. If we are what we think we are, to quote somebody else, then this is a great opportunity for us to go play well for 2½ weeks, ride some momentum into the postseason and be the team that we were for four months, the best team in baseball over four months. We have to go do that."
Epstein also touches on John Lackey (it's "frustrating"), Dustin Pedroia, J.D. Drew (he has a broken finger), Clay Buchholz's rehab (he may pitch out of the bullpen in the playoffs) and any possible moves the team can make in the last couple of weeks of the season, but the Cubs are not brought up.

In the excitement that notes the Rays have four more games against the Red Sox, it should be noted they have seven more games against the Yankees, as well -- and despite some delusional daydreams by fanboys, the Yankees aren't going to just lay down to screw over the Red Sox.
For more baseball news, rumors and analysis, follow @eyeonbaseball on Twitter or subscribe to the RSS feed.