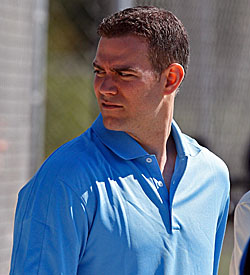 By Matt Snyder
Red Sox
general manager Theo Epstein is said to be close to the top of -- if not on top --
Cubs
' chairman Tom Ricketts' wish list for his next general manager. Initially, it felt like it was a pipe dream for several reasons. First of all, Epstein already had a dream job for several reasons. Why would someone leave a dream job? Next, the Red Sox are already set up to compete for a World Series title for the next several years. The Cubs are not. Why leave a success to rebuild?
We can only speculate on the sentiment, because Epstein hasn't said -- nor will he say any time soon -- what his answers to those questions are. But according to reports, it's possible the Cubs can land him.
Nick Cafardo of the Boston Globe
notes that the rumor is alive and well, while
Phil Rogers of the Chicago Tribune
said the Cubs getting Epstein is more "viable" than he had previously thought.
If you don't think there's at least some chance Epstein would entertain an offer, think again. The NL Central doesn't have the
Yankees
, and the Cubs have the resources to be an absolute monster under the right leadership. If Epstein believes he can create a foundation like he did in Boston -- remember, a lot of the roster is home grown -- he might just be ready for a new challenge.
And, of course, he already halted one historic run of futility. Wouldn't the prospects of ending a second one be pretty enticing?
Now, none of this means Epstein is close packing his bags for the Windy City, but it's certainly
interesting
, if nothing else.
Hat-Tip: Chicago Now
For more baseball news, rumors and analysis, follow @EyeOnBaseball on Twitter or subscribe to the RSS feed.