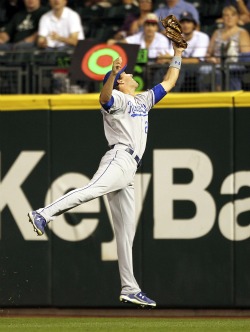 By Evan Brunell

Bob Dutton of the
Kansas City Star
writes that Gold Glove balloting will change this offseason in a long overdue move.
Instead of awarding a Gold Glove to three outfielders regardless of specific position, outfielders will now be broken down by which outfield spot a player plays in. That means a left fielder, center fielder and right fielder will all win the award, with candidates limited to those who play a specific amount of games at said position.
It's a great move to make, as the previous system was antiquated. Perhaps it made more sense in the olden days, when it was believed the best defenders in the outfield were always center fielders. In addition, defense was not as heavily prioritized as it has become the last few seasons due to a downturn of offense. Also helping matters is an increased understanding of the impact on defense each specific outfielder can have on the game. With multiple advanced defensive metrics easily available -- to varying degrees of effectiveness -- it's easier to figure out which defenders truly shone through as opposed to just handing the award to those who looked good in center.
The change in the award could potentially help Kansas City sweep the AL outfield Gold Gloves, as the three outfielders --
Alex Gordon
in left,
Melky Cabrera
in center and Jeff Francouer (pictured) in right -- are currently on pace to be the first outfield trio since 1978 to rank first or second at his position in assists. (The Expos had their outfielders all finish first: Warren Cromartie, Andre Dawson and Ellis Valentine.) Unsurprisingly, K.C. leads the majors in outfield assists with 48, including an impressive 25 at home. Credit is being given to first-base coach Doug Sisson, who is in his first year on the coaching staff after previously serving as minor-league field coordinator for three seasons for K.C.
"We throw every three days to the bases," Francoeur, the only Royal with a previous Gold Glove award (Braves, 2007), said. "And if we don't do it right, Siss will hit another one. I give him a lot of credit for that. Siss has been a huge part of this team this year. He's put us in position to make plays."
Sisson believes throws should arrive on one hop, which helps outfielders not overthrow cutoff men, and passes credit onto the outfielders.
"It's a product of putting in the time," Sisson said, "making it important and throwing to the bases without cut-off men. That way, in their minds, they're thinking about throwing guys out. Not hitting cutoff men.
"I've always believed the cutoff man's job is to get in the way of the throw. It's not an outfielder's job to hit a cutoff man. If you're trying to throw guys out, but your mind-set is to hit the cutoff man, then you're not really trying to throw guys out."
Clearly, that approach has worked to date. Combined with the rule changes, it could lead to the Royals being the first-ever team to sweep the outfield Gold Gloves. Two outfielders on the same team winning the award has happened multiple times, most recently in 2010 when Seattle's Franklin Gutierrez and Ichiro Suzuki achieved the honor. Seattle has accomplished the feat four times (1996, 2001, 2003, 2010), tops in the majors.
For more baseball news, rumors and analysis, follow @EyeonBaseball on Twitter or subscribe to the RSS feed.