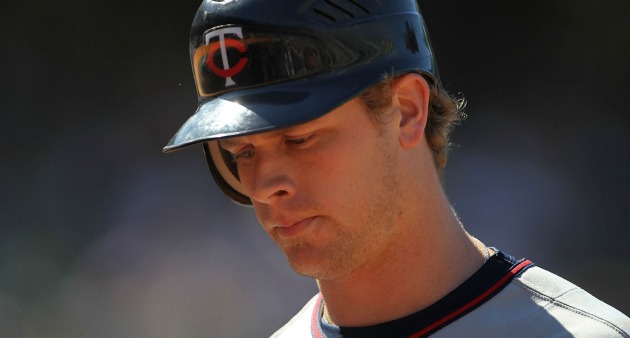 By C. Trent Rosecrans
While football and hockey are putting a renewed emphasis on safety in light of the rising concern over concussions, baseball's not immune to head injuries just because it's a so-called "non-contact" sport.
The poster boy for concussions in baseball may end up being former MVP Justin Morneau, who missed the second half of last season after suffering a concussion on a play at second base when he took a knee to the head while trying to break up a double play. But that may not be the play that defines Morneau's struggles with concussions. Instead, it could be the concussion he suffered on Aug. 28. The play didn't look anything out of the ordinary -- a first baseman diving after a ball happens all the time. The results don't.
Morneau said he believes he suffered a new concussion in the second inning of the Aug. 28 game at Target Field when he dove for what ended up as a double for Alex Avila. He finished that game, but hasn't played since.
There's plenty we don't know about concussions, but one thing we do know is that once you suffer one, you're more susceptible to more. And that could be the problem for Morneau.
"It's definitely something that concerns me," Morneau told the St. Paul Pioneer Press. "I mean, that's not normal. You see guys dive all the time. You see guys run full speed into the wall, and they're all right after that."
Twins manager Ron Gardenhire told the newspaper that he doesn't expect Morenau to play again this season, and if he does, it will be as a DH.
"He hit the ground pretty hard, and it definitely didn't help matters with him," Gardenhire said. "There's always concern. As I've said all along, we don't know enough about this concussion thing … I'm just hoping we can get past these things over the winter, and get into next year and maybe they'll be a thing of the past."
That's a huge hope -- and one that may not have much backing other than just hope.
Last season when John McDonlad's knee hit Morneau in the head, he was having another MVP-type season. He was hitting .345/.437/.618 with 18 homers and 56 RBI in 81 games. A full offseason didn't have him ready to return immediately to the field, as he missed some of spring training. He was there for opening day, but in 2011 he wasn't the same player he'd been before the injury, hitting just .227/.285/.333 with four homers and 30 RBI in 69 games.
MLB added a seven-day disabled list for those diagnosed with concussions and it's been a good first step. But we still don't know near enough to really understand the problem or how to combat it -- for now, vigilance and awareness are the two things that can be done and need to be expanded on by players and management. There's still a lot of ignorance out there about the problem -- just read any entry here on Morneau or concussions and you'll see comments from people telling them to "man up" or "get over it," implying that if no bone is broken, it's not a real injury and players should be on the field. That type of fundamental misunderstand of concussions is what many health providers are fighting against. The bottom line is a concussion is a legitimate brain injury -- there's no such thing as a "minor" brain injury and anyone who questions the toughness of a player with such an injury aren't using that organ.
For more baseball news, rumors and analysis, follow @eyeonbaseball on Twitter or subscribe to the RSS feed.