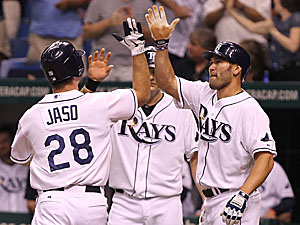 By Matt Snyder
For the past several months, it has seemed like a foregone conclusion that the AL Wild Card would be the
Yankees
or
Red Sox
-- whichever one didn't win the mighty AL East. And it probably still will be, but the Red Sox may at least have to sweat to bring it home. On the strength of a
John Jaso
three-run home run and
Wade Davis
complete game, the
Rays
beat the Red Sox 7-2 Friday night
. Considering the head-to-head matchups left on the schedule, this thing has a chance to get interesting.
Boston Red Sox
Record: 85-59, WC leader
Remaining Schedule: 2 at TB, 2 vs. TOR, 4 vs. TB, 4 vs. BAL, 3 at NYY, 3 at BAL
Coolstandings.com playoff chances: 96.2 percent
Tampa Bay Rays
Record: 79-64, 5.5 GB
Remaining Games: 2 vs. BOS, 3 at BAL, 4 at BOS, 4 at NYY, 3 vs. TOR, 3 vs. NYY
Coolstandings.com playoff chances: 3.8 percent
It's still 5 1/2 games and there are less than three weeks to play. That's a huge gap and it's why the computer spits out a 3.8 percent chance for the Rays. But if the they get really hot and keep beating the Red Sox head-to-head, things could shrink quite quickly. Take note of the six remaining head-to-head games. It's far, far easier said than done, but if the Rays win all six of those, that's more than the entire 5 1/2 game gap between the two teams. Also, the Red Sox do have to play the Yankees on the road.
On the flip side, look at the Rays' upcoming schedule. That's an awfully grueling road trip the Rays have coming up after these next two games. It's a 10-gamer that includes four each in Boston and New York. The odds are pretty good that trip buries them, but that doesn't mean there's no shot.
Maybe it's wishful thinking that this thing gets close, because otherwise there's only going to be drama in one race (thank you AL West!). But the Rays still have a chance of making the AL Wild Card race interesting. If the Rays happen to win the next two games, we have a race.
For more baseball news, rumors and analysis, follow @EyeOnBaseball on Twitter or subscribe to the RSS feed.