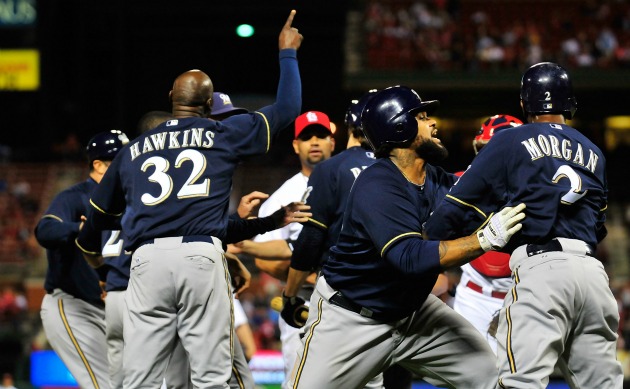 By Matt Snyder
Earlier this week, the
Brewers
and
Cardinals
nearly threw down after an exchange
between Cardinals pitcher
Chris Carpenter
and Brewers outfielder
Nyjer Morgan
. In the aftermath, Carpenter hadn't really talked about his part in the near-fracas, only that Morgan doesn't play "the right way." Morgan contended that Carpenter started by saying an obsenity in his direction.
Friday, Carpenter came clean and admitted that he did as much, though he refused to say that was when the problem started. Yes, he yelled the f-bomb in Morgan's direction after striking him out. But that isn't exactly what started the problem.
From
Matthew Leach of MLB.com
:
But Carpenter wanted to make another point in tandem with that admission. He noted that while he said something once to Morgan, Morgan said a lot of things, repeatedly, over the course of Wednesday night and in prior starts as well. Each time, he ignored it, until he struck out the Milwaukee outfielder in what will be their final head-to-head plate appearance of 2011.
So Morgan would say that Carpenter started a near-fight after the strikeout, but Carpenter would say that Morgan had long since started an issue between the two and the dustup was a mere continuation of their personal issues.
For more baseball news, rumors and analysis, follow @EyeOnBaseball on Twitter or subscribe to the RSS feed.