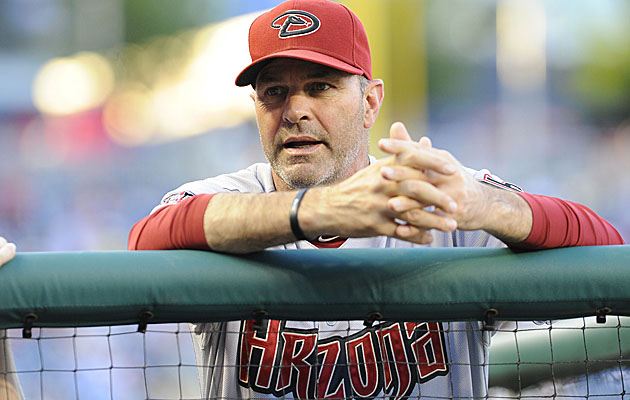 By Matt Snyder
During the week, Eye on Baseball has been profiling candidates to win baseball's major awards after the season. We close the week with the NL Manager of the Year


View contenders for the
:
AL MVP
|
NL MVP
|
AL Cy Young
|
NL Cy Young
|
AL Rookie of the Year
|
NL Rookie of the Year
|
AL Manager of the Year
As opposed to most of the other awards we've discussed this week, this one likely has little drama. Whether you agree or not, it seems rather obvious -- based upon how most BBWAA voters cast their ballots in any given season -- that Kirk Gibson of the
Diamondbacks
is going to win the NL Manager of the Year. There are some other very solid candidates, but it's been well established that a manager leading a division champion who most people expected to come in last place is an absolute shoo-in for the honor. Clint Hurdle was all set to challenge Gibson, but the
Pirates
fell apart in August. Terry Collins has also done a great job to have the
Mets
hovering around .500 considering all the issues they're dealing with. Still, he's not in contention for this award. Here is Gibson's case, along with three others who have an outside shot.
Kirk Gibson, Diamondbacks
Record through 9/8: 83-61
2010 D-Backs record: 65-97
If you didn't think the Diamondbacks were going to finish last in the NL West before the season, you were likely predicting a fourth-place finish or fooling yourself. Instead, they've obliterated all expectations and Gibson's demeanor has set the tone for the turnaround of his upstart ballclub. Behind MVP candidate
Justin Upton
, Cy Young candidate
Ian Kennedy
and a host of other difference-makers -- including a revamped bullpen -- the D-Backs are now the biggest surprise team in baseball for the 2011 season. Assuming there's no colossal meltdown that sees the D-Backs miss the playoffs -- they entered Friday with a 7 1/2 game lead and less than three weeks to play -- this award is as good as Gibby's.
Also in the Mix
(listed alphabetically)
Fredi Gonzalez, Braves
Record through 9/8: 84-60
2010 Braves record: 91-71
His ballclub is performing mostly to expectations -- probably a tick higher -- but replacing a legend (Bobby Cox) is no insignificant task. Gonzalez has also had to juggle the lineup often due to key injuries and some underperformance. Plus, the development of so many young players -- save for
Jason Heyward
, who is one of the guys underperforming -- has to look good on Gonzalez.
Charlie Manuel, Phillies
Record through 9/8: 92-48
2010 Phillies record: 97-65
It's too bad that expectations virtually eliminate some managers from contention on this award -- more on that coming next week, by the way -- because Manuel definitely deserves a shot at this thing. He has his Phillies on pace to win 105 games, which would break the franchise record by four. Yes, he has a stacked starting pitching staff and a very good lineup, but there have been injury issues all season, many to All-Star caliber players. Yet it has never knocked the Phillies off course. That has to be a testament to Manuel. April 26 was the only day all season the Phils weren't in first, and they were a half-game out. But since the Phillies were picked by almost everyone to win the NL East, Manuel won't win the award.
Ron Roenicke, Brewers
Record though 9/8: 85-60
2010 Brewers record: 77-85
If not for the D-Backs' incredible turnaround, Roenicke would be on his way to winning this award. Yes, the Brewers did push all their proverbial chips to the center of the table this season, in acquiring
Zack Greinke
and
Shaun Marcum
to bulk up the pitching staff and possibly make one last run with
Prince Fielder
anchoring the lineup -- if they're unable to retain him via free agency after the season. So, yes, the Brewers have talent, but Roenicke has been a solid leader for this group. They weathered an 0-4 start and then a seven-game losing streak had them at 13-19. They played well for much of the rest of the way, but still were involved in a wide-open, four-team race at 54-49 in late July. Since then, the Brewers are 31-11 and have opened up a menacing eight-game lead in the NL Central. They're on pace for the most Brewers wins in a season since 1982 -- when Harvey's Wallbangers made the World Series. And Roenicke is a first-year manager, so that should earn him a few more bonus points. Expect him to finish second, which is only due to bad timing.
text
For more baseball news, rumors and analysis, follow @EyeOnBaseball on Twitter or subscribe to the RSS feed.