By C. Trent Rosecrans
One of the coolest minor league ballparks I've visited is in Harrisburg, Pa., where the field is on an island, City Island, just on the edge of downtown.
I remember walking from my downtown hotel, across a bridge with other fans for a Harrisburg Senators game and stumbling back. The bridge continued over the the Susquehana to the other side, in the middle was what is now called Metro Bank Park. It's a unique setting for baseball and the one game I went to there was a total blast.
That makes this photo from Harrisburg third baseman Tim Pahuta posted on Twitter (@Pahooter44) make me feel even sadder. (Photo credit: Tony Wagner)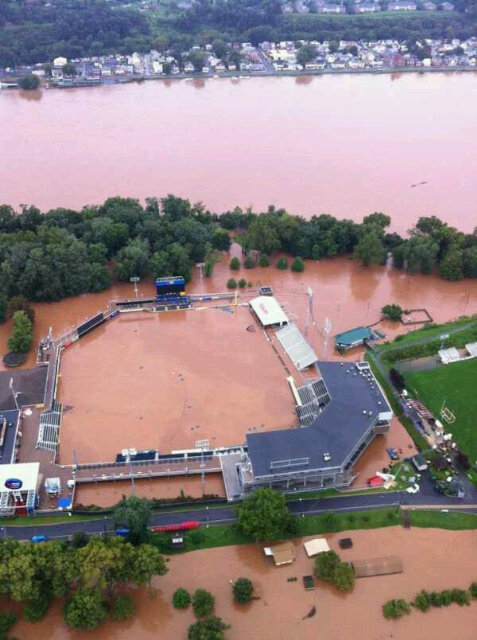 Because of the rains on the East Coast this week, the island is under water.
The Senators, the Double-A affiliate of the Nationals, had home field advantage in the Eastern League playoffs as the Western Division champs and were supposed to start a series against Richmond at Metro Bank Park on Wednesday and Thursday. The series will now start Friday in Richmond with the first two games being played in Virginia. All five games are likely to be played at the Flying Squirrels' home. According to the Patriot-News, officials from the Senators and Eastern League will meet Saturday to determine whether Metro Bank Park will be able to host baseball. If not, the teams will play a doubleheader on Saturday followed by games on Sunday and Monday. If the teams can play on City Island, the teams would return to Harrisburg for Game 3 and then have a doubleheader on Monday if necessary. But that doesn't seem likely.
"It's unfortunate that the flooding situation happened there," Nationals general manager Mike Rizzo told the Washington Post. "I just saw a picture of the stadium. It's certainly unplayable. It looks like it's going to be unplayable for a long, long time."
For more baseball news, rumors and analysis, follow @eyeonbaseball on Twitter or subscribe to the RSS feed.