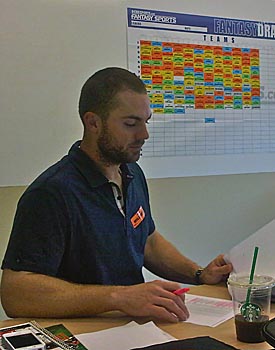 By Matt Snyder
Tuesday, CBSSports.com hosted the seventh annual fantasy football draft for Major League Baseball players. Pictured here is
David Wright
doing his due diligence, even in the late rounds (see the draft board on the wall behind him).
Defending champion
Eric Hinske
is back, and here are the 11 owners vying to remove him from the throne:
Cole Hamels
,
Mark Reynolds
,
Michael Cuddyer
,
Brad Lidge
,
Adam Dunn
, David Wright,
Mark Buehrle
,
Phil Hughes
,
Travis Hafner
, Aaron Rowand and
Ben Sheets
.
Hamels had the first pick and went with Vikings running back Adrian Peterson before Hinske -- a huge Packers fan -- went with Aaron Rodgers second.
View full draft results by clicking here
In a past life, I used to masquerade as a fantasy football analyst -- but it's been a while. Still, I'll give it a shot and predict
Adam Dunn
as the eventual champion. It would be pretty cool if that happened, as he should have some consolation for the debacle that has been his 2011 baseball season, albeit a very small consolation. I love his core of Rivers/Charles/Moreno/Holmes/Nicks and then he has the Steelers defense and potential trade bait on his bench if Peyton Manning gets healthy. If not, he still has Philip Rivers.
Go check out the teams and leave your own predictions in the comments section if you wish.
If you care to follow along,
@CBSSportsPR
will be giving updates all season on Twitter.
Here's some past history of the league, via CBS Sports PR:
2005 Championship Recap:
Greg Maddux
won the inaugural season of the MLB Players Fantasy Football League on CBSSports.com by defeating
Michael Cuddyer
48-39.

2006 Championship Recap:
Thanks to a blocked field goal by his defense, worth two points,
Doug Mientkiewicz
defeated
Ben Sheets
79-78 in the closest championship game in the history of the MLB Players Fantasy Football League on CBSSports.com.
2007 Championship Recap:
Craig Wilson
defeated
Matt Clement
75-40.
2008 Championship Recap:
In his first year in the league, Cleveland's
Travis Hafner
defeated
B.J. Ryan
133.5 to 83.5.
2009 Championship Recap:
In a year that saw him pitch a perfect game, Chicago's
Mark Buehrle
added another highlight by defeating
Eric Hinske
114.5 to 95 for the title.
2010 Championship Recap:
A year after losing in the finals,
Eric Hinske
defeated
Ben Sheets
116.5 to 85.5, a victory that was doubly sweet as his beloved Green Bay Packers also won the Super Bowl.
For more baseball news, rumors and analysis, follow @EyeOnBaseball on Twitter or subscribe to the RSS feed.