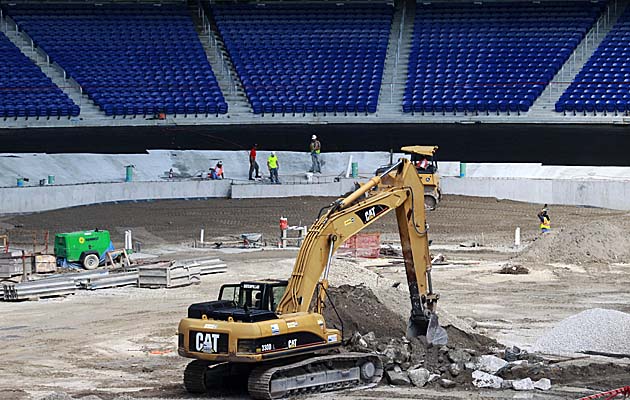 By Matt Snyder
While it certainly doesn't necessarily mean on-field success, the Florida
Marlins
are about to finally have their own home. After sharing a park with the NFL's Miami Dolphins since first taking the field in 1993, the Marlins will begin 2012 with a baseball-only facility in Miami. Wednesday, local media were given a tour of the facility and the Marlins took the opportunity to sing their own praises.
"This will be the first ballpark to come in on budget and on time in a long, long time," team President David Samson said (
Sun-Sentinel.com
). "There will not be overruns in this building. This building will come in at the $515 million mark, not one dollar over budget, [and] not one thing taken out of the building. As a matter of fact, we have been able to add things because the workers have been so efficient and it has been built so well."
Samson also noted that he's personally sat in every single seat and went with the proverbial "there's not a bad seat in the house" sentiment.
So the Marlins' fans will finally have a place that seems like a real home instead of some rental where a baseball game seems foreign and unwelcome. Attendance will surely increase (the Marlins average less than 19,000 fans per game this year -- and that's paid, not how many actually show up), but what about the problem that has plagued the Marlins for years: Payroll?
"I know it will be at levels previously unseen," Samson said (
Sun-Sentinel.com
).
Interesting.
The time might be now to start ramping up the baseball excitement, south Florida.
Real life 'Wild Thing:'
If you like baseball and don't love Charlie Sheen's character -- Ricky "Wild Thing" Vaughn -- in "Major League," well, you might have as many screws loose as Sheen. In the movie, Vaughn earned the nickname after loading the bases with walks on 12 straight pitches and then later set a record for wild pitches in an inning. Embattled
Yankees
starting pitcher
A.J. Burnett
didn't do it in an inning, but he has now joined rare company with his wild pitches. With three Wednesday, he became the first pitcher since 1919 to have eight games with at least three wild pitches (
Baseball-Reference blog
).
A better Johan?
Mets
ace
Johan Santana
has been sidelined all season after having a surgical procedure in 2010. But he's getting closer and closer to possibly seeing some relief work this September, just to get him back on the mound for an inning or two. And get this: Mets' pitching coach Dan Warthen said Santana's stuff is better right now than it was last season (when he had a 2.98 ERA in 199 innings). "Better velocity," Warthen said (
NYDailyNews.com
). "The arm was in the same slot each and every time. He wasn't searching for a place that didn't hurt."
Emotional season:
Nationals
catcher
Wilson Ramos
came to America in 2004 to chase his dream of playing Major League Baseball. But through the long visa process, his family had never been able to get here to see him play in person ... until this season. His parents recently secured a 10-year visa and finally got to see their son play a big-league game in person this homestand (
Washington Times
).
Rock and a hard place:
"Moneyball" is coming to theaters soon, as I'm sure most of us have seen the previews during commercial breaks on TV by now. For those uninformed, it's a film adaptation of the book about A's general manager Billy Beane trying to build a team without the resources of a large-market club (or even a middle-market one). Beane hasn't really said anything about it, and Wednesday he explained why: "The hard thing for me has been figuring out how to walk this fine line," Beane said (
Mercurynews.com
). "If I embrace all this movie stuff, it looks like I'm really digging it. But if I put my hand up and say, 'No,' I look like I'm distancing myself from it. There's no playbook for this."
Old Style at Wrigley:
Pabst brewing company nearly nixed a deal with Wrigley Field, where
Cubs
fans have been consuming Old Style beer since 1950, but tradition won out -- as the contract was extended through 2013. As a Cubs fan I can tell you that it's tradition to buy one and suck it down each time you attend a game -- even if it tastes like crap (it kind of does). (
Chicago Breaking Sports
)
Milwaukee loves 'Tony Plush:"
Brewers
outfielder
Nyjer Morgan
has become an unlikely popular player this season, and the T-shirt depicting his alter-ego -- "Tony Plush" -- outsells all other Brewers' T-shirts three-fold (
Milwaukee Journal-Sentinel
). I wonder if
Chris Carpenter
wants one (
click here if you don't get it
)? I kid, but it would at the very least be a funny prank for a teammate to get him one.
Wild beats Man:
A squirrel broke into the
Indians
' bullpen Wednesday night and closer
Chris Perez
attempted to capture it with his jacket. He lost, as the squirrel ran up the bullpen wall and jumped into the center-field bushes (
Detroit Free-Press
).
Happy Anniversary:
On this day 25 years ago, Rafael Palmeiro made his major-league debut (
Hardball Times
). He'd go on to accumulate 3,020 hits, 569 home runs, nearly 2,000 RBI, a Gold Glove in a season when he only played 28 games in the field and one embarrassing display in front of Congress that
has now been immortalized by Larry David
.
For more baseball news, rumors and analysis, follow @EyeOnBaseball on Twitter or subscribe to the RSS feed.