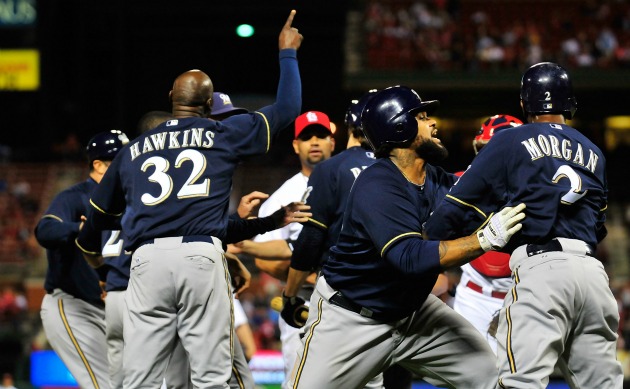 By C. Trent Rosecrans
Nyjer Morgan is one of those players that you hate if he's on another team and you love if he's on yours. He's not on the Cardinals.
Of course, Chris Carpenter has a lot of people who aren't too fond of seeing him in opposite colors, either.
Two of the most polarizing players came to a head Wednesday night in the ninth inning of the Cardinals' 2-0 victory in St. Louis as the two had words after Carpenter struck Morgan out to start the inning.
After the strikeout, you could see Morgan say something that ended with "you" toward Carpenter, then a couple of more words and Morgan threw his wad of chewing tobacco near the mound. That's when Albert Pujols came in from first base yelling at Morgan and then the benches emptied.
Afterward, Morgan told reporters he did indeed say something to Carpenter, but it started when Carpenter said the same two-word phrase to Morgan after the strikeout.
"They're not going to see that," Morgan told MLB.com, referring to the umpires and Carpenter's teammates. "They're going to see what I said."
They did, that's for sure.
"I actually like that guy, I don't mind having a guy like that on my team," Pujols told MLB.com. "He brings a lot of energy to the ball club, and you want to have a guy like that. But sometimes I think he goes [a little overboard] and tries to put too much energy. I remember when he came up with Pittsburgh, the guy just played the game, played hard all the time, never talks. And now you wonder why he's been on three different ball clubs the last year and a half, you know?"
Pujols' words were fair and his attitude fine.
Carpenter, though, tried to play innocent.
"I'm not going to play his game," Carpenter told MLB.com, even though he could be seen talking to Morgan, as well. "There's a certain way to compete and a certain way not to compete. He competes hard but he does it in a different manner, which is unfortunate because it takes away from what kind of player he is. He is a really good player."
Carpenter talks about "playing the right way" and says all the right stuff, but on the mound he agitates and pulls the same kind of thing that Morgan does. Carpenter has led the Cardinals' whining and complaining that has become a trademark of St. Louis baseball. Carpenter has instigated against other teams, yelled at opponents from the mound, thrown at batters (and claimed not to) and even admonished teammates on the field -- which is far from the "certain way to compete" Carpenter and the Cardinals often talk about after the games.
Of course, Carpenter is just following the lead of the game's biggest self-proclaimed arbiter of baseball etiquette and behavior, Cardinals manager Tony La Russa. And La Russa had something to say about Morgan -- even if he said he wasn't going to have anything to say about Morgan:
"Rarely do I comment about another player, because it's not appropriate. Milwaukee should comment about their players and we should comment about ours," La Russa said after the game (from MLB.com) before going on to comment on Morgan. "But he is having a good year of them, he's a talented guy, but he's close to the edge as far as creating problems and trouble. It takes away from the player that he's been for them or wherever he's been with his fuse being so short and actually looking for things to instigate. So I hope he gets a clue. And he probably is going to get upset, or somebody will, that I gave advice, but it's the truth. It's the truth. He could be the player he is without the instigating."
Apparently Morgan didn't hear him or if he did, didn't take his advice. After the game, Morgan took to Twitter:





As much as I like Morgan's game and energy, going after Pujols and calling him a girl pronoun is silly, childish and stupid.
Even with the loss, the Brewers still lead the National League Central by 8.5 games and have a magic number of 11 with 18 games to go. The two teams don't face each other again this season.
For more baseball news, rumors and analysis, follow @eyeonbaseball on Twitter or subscribe to the RSS feed.