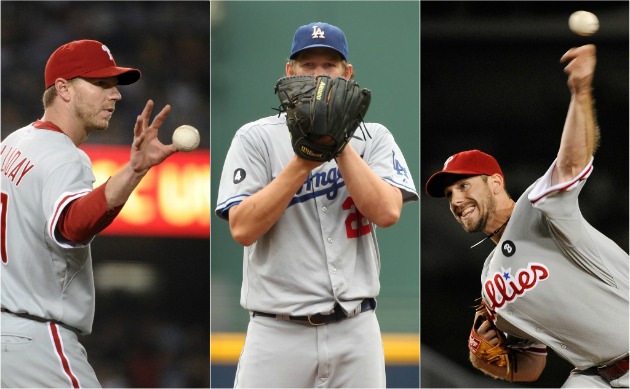 By C. Trent Rosecrans
During the week, Eye on Baseball will be profiling candidates to win baseball's major awards after the season. Today: the AL Cy Young Award winner.
View contenders for the: AL MVP | NL MVP | AL Cy Young
Over in the American League, the engraver can already get the Cy Young Award ready, but in the National League it's a different story -- at this point it's not even an easy discussion when asking who is the Phillies' best pitcher. And just as surprising is that the answer to that question may not be the winner of the National League's Cy Young. Here's five of the leading contenders to be named the National League's best pitcher.
Roy Halladay, Phillies: Last year's winner could certainly repeat. Halladay's been… well, Roy Halladay. He's 16-5 with a 2.49 ERA and pitched seven complete games (although no shutouts). Halladay's so good and so consistent, he's just kind of boring. Sure, he leads baseball with 7.5 strikeouts for every walk and he will strike out 200 for the fourth year in a row, it's just… lacking the sizzle. He may be the best, but there's at least a question.
Cole Hamels, Phillies: While he's often an afterthought in the Phillies' rotation, the 27-year-old lefty is easily the best third starter in baseball. He's 13-7 with a 2.63 ERA and leads the National League with a .968 WHIP. Hamels did miss a couple of starts when he went on the disabled list with left shoulder inflammation last month, hurting his counting stats, which probably knocks him out of contention for the big award. But voters have to vote for five pitchers, so he'll get some votes.
Ian Kennedy, Diamondbacks: The National League's leader in wins (18), Kennedy is the newcomer to this race and also gets bonus points for helping his team to the playoffs (while not as big of a factor as it is in the MVP vote, it can't hurt). The 26-year-old right-hander also leads in winning percentage (.818), but his ERA (2.96) isn't in the same neighborhood as the others in this list. He'll get votes, but won't win the award.
Clayton Kershaw, Dodgers: Now here's your hard charger in the race, putting up an 8-1 record with a 1.44 ERA in the second half of the season. Overall he's 17-5 with a 2.45 ERA and a league-leading 222 strikeouts. Wins for a pitcher don't mean what they once did, but the fact that he's won 17 games (and could end up leading the league) with a bad Dodgers team may make his stats even more impressive. His ERA is second-best in the league behind Cincinnati's Johnny Cueto (2.36).
Cliff Lee, Phillies: And finally there's Lee, who has lived up to the offseason pursuit of his services. Lee is 16-7 with a 2.47 ERA and six shutouts -- only Pittsburgh and St. Louis have as many as three complete-game shutouts by starters this season. He's had two historic months -- going 5-0 with a 0.21 ERA and three shutouts in June and then going 5-0 with a 0.45 ERA and one shutout in August. He allowed just one run in June and two in August. He followed up his hot August with another shutout in his first start of September. He's also second to Kershaw in strikeouts (204) and second in strikeout-to-walk ration (5.1).
Who is the best candidate to win the NL Cy Young Award? We'll answer that later in the year, but have your say in the comments.
For more baseball news, rumors and analysis, follow @eyeonbaseball on Twitter or subscribe to the RSS feed.