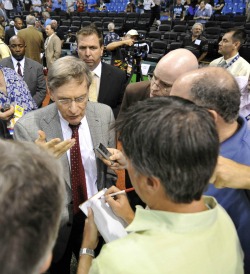 By C. Trent Rosecrans
Bud Selig hopes to have an expanded postseason starting in 2012, the commissioner told Jeff Passan of Yahoo.com.
"It will depend on a whole series of things," Selig said. "The holdup is working out all the details."
Despite Selig's optimism, Passan writes a source tells him the chances of a 10-team playoffs next season are "iffy at best."
The biggest hangup is realignment. And that's being held up by the delay in approving Jim Crane's purchase of the Astros. Passan cites a source that Crane would be OK with moving his team to the American League West, creating six five-team divisions. Crane has little leverage, so moving the Astros remains Selig's best chance at evening the leagues with 15 teams each. According to Fox 26 in Houston, Selig has already asked Crane to move to the American League and the fact he hasn't accepted yet is why he hasn't been approved.
As for the exact format an extend playoff would take -- will it be a one-game playoff between the two wild cards or a three-game series? That's still undecided.
Selig also told Passan that he's still firm on retiring on Dec. 31, 2012, when his contract is up -- "even though a lot of people don't believe it," Selig said.
For more baseball news, rumors and analysis, follow @eyeonbaseball on Twitter or subscribe to the RSS feed.