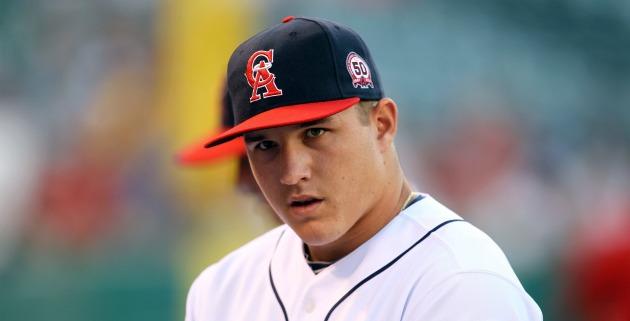 By Evan Brunell

Mike Trout
has won
Baseball America
's minor league player of the year award, capping a year that saw the 20-year-old reach the major leagues as a 19-year-old.
Named the
top prospect in the game prior to the season by CBSSports.com
, Trout hit .326/.414/.544 for Double-A in 412 plate appearances, swiping 33 bags. He is currently in the major leagues for his second stint of the year. Through Tuesday's games, Trout was hitting .238/.309/.464 in 94 PA. However, that line rises to .317/.404/.659 in 47 PA since his second recall of the season, putting him in pole position to open next season as a starting player for the
Angels
.
Even without the promotion, Trout earned the distinction of garnering at least 300 at-bats at Double-A or higher during his age 20 season or younger. There tends to be one or two every year, but Trout put up the fourth-best OPS of any such player, behind
Miguel Cabrera
(2003), Gary Sheffield (1988) and
Delmon Young
(2005). Other luminaries like
Justin Upton
,
Paul Konerko
,
Joe Mauer
,
Prince Fielder
and
Adrian Gonzalez
make the list. There are busts as well (
Sean Burroughs
, Ruben Mateo, Chad Hermansen, Young) but the overall list is still favorable toward Trout having a productive career.
It's still hard to fathom so many whiffing on Trout, who was selected with the 25th pick of the 2009 draft despite ranking No. 2 on Los Angeles' wish list behind
Stephen Strasburg
.
"Going back, [area scout Greg Morhardt] was probably the only guy who did have it right," Angels crosschecker Jeff Malinoff explained in a
Baseball America
story. "He was so over the top on Trout. The time he popped up three times, I remember telling Mo, 'I thought he should have hit those pitches.' Mo wouldn't even go into the mechanics of his swing. He just said, 'He's a Hall of Famer.' "
Here's a list of previous winners, dating back to 2000:
2000:
Jon Rauch
, rhp,
White Sox
2001:
Josh Beckett
, rhp,
Marlins
2002:
Rocco Baldelli
, of, Devil
Rays
2003: Joe Mauer, c,
Twins
2004:
Jeff Francis
, lhp,
Rockies
2005: Delmon Young, of, Devil Rays
2006:
Alex Gordon
, 3b,
Royals
2007:
Jay Bruce
, of,
Reds
2008:
Matt Wieters
, c,
Orioles
2009:
Jason Heyward
, of,
Braves
2010:
Jeremy Hellickson
, rhp, Rays
For more baseball news, rumors and analysis, follow @EyeonBaseball on Twitter or subscribe to the RSS feed.