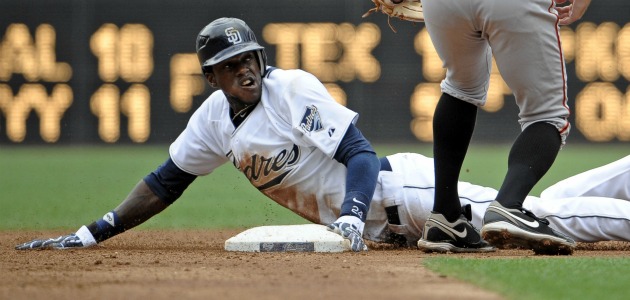 By Evan Brunell

The
Padres
are hoping to extend center fielder
Cameron Maybin
's contract after the season, following the 24-year-old's successful stint in town, the
North County Times
writes.
"I hadn't heard, but I'm in," Black said of San Diego being interested in a long-term deal for Maybin. "That's good news."
Finally handed a full-time job after bouncing between the starting lineup, bench and minors with Florida, Maybin has broken out in San Diego when the
Marlins
moved the former top prospect for two relievers. Maybin, who was an integral piece of the
Miguel Cabrera
trade, had struggled for years to retain a spot with the Marlins. But in San Diego, he was given a chance to play every day.
After starting the year with a bit of a struggle, Maybin is up to .272/.331/.396 for the year, swiping 34 bases and swatting eight homers. With two more, he would become the first 10/30 player for San Diego since Reggie Sanders in 2009.
"Probably the biggest, most surprising thing has been that he plays his butt off every day; the talent is obvious," GM Jed Hoyer said previously. "He just needs a chance to refine it and go through the process. But he comes to play every day."
Maybin has only been getting better as the year has gone along, drastically improving his plate discipline over the last few months. Since June 21, Maybin is slashing .297/.350/.403, numbers any team would take out of center with his speed and defense factored in. But he's even more valuable than his line suggests, as his numbers outside of Petco Park ring up as .311/.369/.471. It's no wonder, then, that San Diego wants Maybin in town long-term.
"That truly means a lot," Maybin said. "I go out and play my heart out for these guys every day. They've given me a great opportunity. When the season ends, we can probably discuss that a little more, but right now we need to continue to go out and play hard and try to figure out a way to finish on a good note."
Maybin can't become a free agent until after 2015 and still has one more season set up for league-minimum salary before hitting arbitration, but he has no guaranteed years on his contract. That allows the Padres to dictate the terms each off-season, and players these days tend to sign deals lower in value that they may otherwise earn in arbitration in exchange for job security. The Padres, as a small-market team, welcomes these type of deals as it locks in salaries that they can plan around. Any deal would likely buy out one or more of Maybin's free-agent seasons, or at least give the club an option for that right.
For more baseball news, rumors and analysis, follow @EyeonBaseball on Twitter or subscribe to the RSS feed.