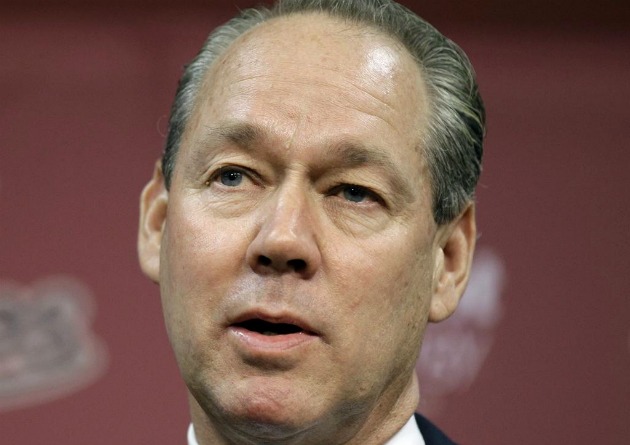 By Evan Brunell


Limbo
: The saga of Jim Crane as
Astros
owner continues to take a strange path, and that path may be headed toward a rejection.
BizofBaseball.com
outlines the reasons behind why the deal has stalled... and why approval may be a pipe dream at this point. You'll have to click through to get the full breakdown, but the main takeaway is that Crane shares some sobering similarities with
Dodgers
owner Frank McCourt, and we all know how that turned out.
For one, Crane had a contentious divorce himself that ended up in the papers back in 2000, where he reportedly came to blows with his son. Crane's history in court is also checkered, as allegations of racism and war-profiteering are very real concerns, and baseball understandably may not be interested in being affiliated with such a person, especially one whose companies were in federal court 130 times in 15 years.
Current Houston owner Drayton McLane expects a vote to be passed at any minute. But it won't come this week, and might not come at all unless commissioner Bud Selig and all 29 current owners can get on board. But even that might be rendered moot, as Crane is reportedly having a hard time keeping his investment group together, which is large and has investments as low as $25 million committed. Eventually, these investors may tire of having their money tied up in a venture that looks less and less ideal.
Time for a four-man
: For a few years now, I've strongly believed that the best rotation would be that of four men plus a fifth starter who could start every now and then. I've blogged on it before, and now Jeff Passan comes out in favor of a four-and-swing rotation, even as teams move to six-man rotations these days. (
Yahoo! Sports
)
Managers of the year
: You know it's September when you start seeing articles on who should win certain awards. Today, two candidates for manager of the year are discussed: The
Angels
' Mike Scioscia by the
Orange County Times
while Ron Roenicke of the
Brewers
gets love from the
Milwaukee Journal-Sentinel
.
Return of Strasburg
: The return of
Stephen Strasburg
was highly anticipated, and the phenom delivered Tuesday night with a dazzling performance. Here's a pitch F/X review of the outing. The biggest takeaway? Strasburg is throwing a new changeup. (
Fangraphs
)
Finally
: It took three years, but
Dustin McGowan
has finally moved past all his injuries, surgeries and rehab. For the first time since July 2008, McGowan pitched in a game when he threw four innings Tuesday night. He wasn't lights out, but that's besides the point. (
Toronto Star
)
Done in Pittsburgh?
Paul Maholm
is shut down for the year due to injury, which may bring an end to his
Pirates
career. The club holds a club option, but it's anyone's guess if the option is exercised. (
Pittsburgh Tribune-Review
)
Venable a Bear
: Wil Venable's brother has made the Chicago Bears football team. Winston was an undrafted free agent, but made the squad on special teams. (
North County Times
)
Beer me
: If you're looking for a good beer, give AT&T Park in San Francisco a try, a destination that received a glowing beer review. (
Fangraphs
)
Montero wants to return
: 'Zona catcher
Miguel Montero
will be in his final year of arbitration next season before becoming a free agent. The backstop has indicated his desire to stay, and the team has reciprocated, with both sides likely to discuss an extension after the season. (
Arizona Republic
)

Team USA
: Brett Jackson won't be called up to the
Cubs
this season, as he will instead play for Team USA in the Pan American Games. With a solid spring training, Jackson should cement himself as the Cubs' center fielder. (
Chicago Sun-Times
)
Back in L.A.:
Rod Barajas
has found a home in Los Angeles and is interested in returning. The Dodgers may disagree, though, and may prefer to go young at the position next year. (
Los Angeles Times
)
Social day
: Speaking of L.A., it's hard to argue against the fact that the Dodgers have taken the biggest step back in public relations this year. As an attempt to reconnect with fans, the team is holding a Social September campaign, a month-long campaign that will give fans the ability to win prizes and interact with the team. (
MLB.com
)
For more baseball news, rumors and analysis, follow @EyeonBaseball on Twitter or subscribe to the RSS feed.