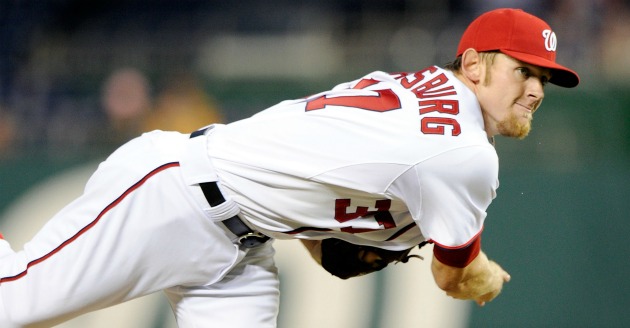 By C. Trent Rosecrans
Our own Danny Knobler will have more from Washington later, but if you missed it -- Stephen Strasburg didn't disappoint in his return from Tommy John surgery. In his first start in the majors just days after the anniversary of his surgery, Strasburg was dominant, throwing five shutout innings, allowing two hits, no walks and striking out four.
As impressive as the results were, so too were the brush strokes on the masterpiece -- a fastball that was clocked as high as 99 mph, the same knee-buckling curveball we saw last year and the change up that can make anyone looking for heat look silly. As many words as have been used to describe Strasburg, they all seem apt.
Last season his debut dress both viewers and raves. Strasmas went from a one-time event to a traveling carnival, and even if he didn't live up to the billing in every start, nobody walked away not understanding that the hype was justified.
Tuesday was no different.
Many pitchers have come back from Tommy John surgery, so coming back soon and even better isn't unheard of at this point. However, for most pitchers coming back requires the search for their old release point and control. In Strasburg's return, he had 14 first-pitch strikes to the 17 batters he faced and didn't seem to have an errant pitch. And that's what's always been so impressive about Strasburg, it's not just the stuff, but the command. He knows he can overpower a batter and also trick them. Set up for one and you set up for failure.
In the fourth inning, one of baseball's best, Matt Kemp, watched two strikes and a ball all at 96 mph or better and then went after a 90 mph two-seam fastball that darted down below the zone that had Kemp flailing at it for the third strike and Strasburg's third strikeout of the night.
In all, Strasburg threw 56 pitches, 40 for strikes. He gave up a leadoff double to Dodgers rookie Dee Gordon to lead off the game (on what would have been a single for anyone with mere human speed) before retiring the next 11 batters he faced. The only other hit was a grounder by Juan Rivera that shortstop Ian Desmond got a glove on, but couldn't corral.
There will be bumps along the way, that's what baseball's all about. But Tuesday wasn't one of those bumps, instead it was a triumph, one of many seemingly to come.
If everything pans out for the Nationals -- which of course will always be a huge if -- the one thing Strasburg brings is not only an ace, but maybe something just a tad more -- that ace that isn't swayed by an stage or any spotlight. Strasburg's entire career has been in the spotlight, one that has been bright and hasn't bothered him a bit.
For more baseball news, rumors and analysis, follow @eyeonbaseball on Twitter or subscribe to the RSS feed.