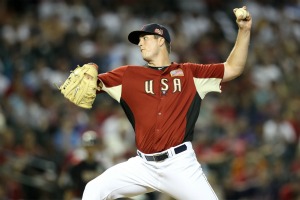 By C. Trent Rosecrans
Just more than three weeks after undergoing an appendectomy, Rockies left-hander Drew Pomeranz will make his big-league debut on Sunday against the Reds.
The centerpiece of the trade that sent Ubaldo Jimenez to Cleveland, Pomeranz has just thrown 10 innings in Double-A since July 25. In two starts in the Rockies' system, Pomeranz has thrown 10 scoreless innings, including three perfect innings on Monday night, striking out three batters for Double-A Tulsa. In his organizational debut on Aug. 17, Pomeranz threw seven scoreless innings for Tulsa, allowing just two hits and striking out four. Overall this season, he's 4-3 with a 1.78 ERA in 20 starts, striking out 119 batters in 101 innings. Batters are hitting just .189 against him this season.
Pomeranz threw 47 pitches on Monday and will be on a pitch count on Sunday against Cincinnati.
"Obviously you're anxious to see that, just like you were anxious to see Alex White," Rockies manager Jim Tracy told the Denver Post. "He's left-handed, you've gotten rave reviews about what people in the organization have seen up to this point. … But Sunday he gets to face major league hitters and you get to find out that there's a little bit of difference between facing hitters in the Texas League and facing hitters in the major leagues."
Pomeranz was the fifth pick overall in the 2010 draft by the Indians and came over to the Rockies in the trade that also sent the right-handed White to Colorado along with first baseman/outfielder Matt McBride and right-hander Joseph Gardner.
White, the Indians first-rounder in 2009, has made three starts for the Rockies, going 1-1 with a 7.41 ERA. He had a no-decision in his Rockies debut on Aug. 23 and picked up his first win in the National League on Saturday, allowing five hits and four runs in five innings in a 5-4 Colorado win at San Diego. He also had three starts for the Indinas, going 1-0 with a 3.60 ERA with the Indians.
Since going to Cleveland, Jimenez has gone 2-2 with a 5.27 ERA in seven starts.
For more baseball news, rumors and analysis, follow @eyeonbaseball on Twitter or subscribe to the RSS feed.