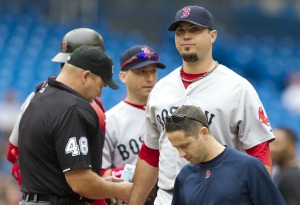 By C. Trent Rosecrans
Red Sox starter Josh Beckett will miss his next scheduled start, Sunday at Tampa Bay because of his sprained right ankle, manager Terry Francona told reporters before Tuesday's game in Toronto.
Beckett injured his ankle in Monday's game against the Blue Jays and he flew back to Boston on Tuesday morning to be examined. Francona said Beckett was feeling better.
"I think he was actually doing OK, good enough to complain about going [for the exam]," Francona said (WEEI.com).
A report by CSNNE.com's Sean McAdam cited two sources "with knowledge of the situation" that said Beckett's injury is a "short-term ailment" and he will likely be fine for the postseason.

The Red Sox released a statement by team medical director Tom Gill, that said nothing much new:

"Josh was evaluated today at the Massachusetts General Hospital by the Red Sox medical staff, including team foot and ankle specialist, Dr. George Theodore," the release said. "Josh experienced pain in his ankle while pitching last night. His examination was consistent with an ankle sprain. An MRI was performed that confirmed no other injury to his ankle tendons, or his Achilles tendon. We will re-evaluate his symptoms and availability later this week."
Beckett's absence coupled with Erik Bedard being skipped on Friday due to a sore left knee means the Red Sox will have John Lackey start Friday and rookie Kyle Weiland start on Saturday against the Rays. Jon Lester will pitch on Sunday in Beckett's spot in the rotation.
For more baseball news, rumors and analysis, follow @eyeonbaseball on Twitter or subscribe to the RSS feed.