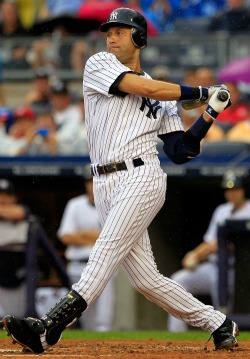 By Evan Brunell
Since getting his 3,000th hit on July 9,
Derek Jeter
has been a different man. Skipper Joe Girardi believes that isn't an accident.
"I've said all along, I don't think I realized the pressure he was under to get those 3,000 hits," Girardi said to
MLB.com
. "Everything in his career, he's always handled with such grace and been able to relax in the big moment. But since he's gotten past [3,000], he's been a different player."
Jeter has hit .354/.404/.477, including his 5-for 5 day that netted hit No. 3,000 after slogging through a down 2010 season and kicking off 2011 with a pedestrian .257/.321/.329 figure. Clearly, though, he's rediscovered his power and has been able to see more balls fall in for hits. While his overall line of .297/.354/.389 pales in comparison to previous numbers, it's still an highly-encouraging bounce-back season for the shortstop, who has two years remaining on his deal.
Jeter said on Sunday that he is staying back at the plate more, which he attributes to his resurgence. I'm sure that's true, but you can't overlook finally getting hit No. 3,000 as another reason why. After the milestone, Jeter admitted that it had been weighing on him more than expected.
Is Jeter as good as his line indicates since July 9? No. Sorry to break it to you, but that Jeter is dead and buried at age 38, just like Jeter wasn't as bad as his line up to July 9 indicated. After all, if the 3,000th hit was to blame for Jeter's struggles, how do you explain 2009? No, let's not turn a hot streak into a sentimental story.
But Jeter can still contribute value with the bat, even at the tender age of 37. No one knows what the next two years will bring, but odds are that Jeter will be able to hold down a starting spot without too much difficulty, even if he isn't the offensive force he once was. But he doesn't need to be.
For more baseball news, rumors and analysis, follow @EyeonBaseball on Twitter or subscribe to the RSS feed.