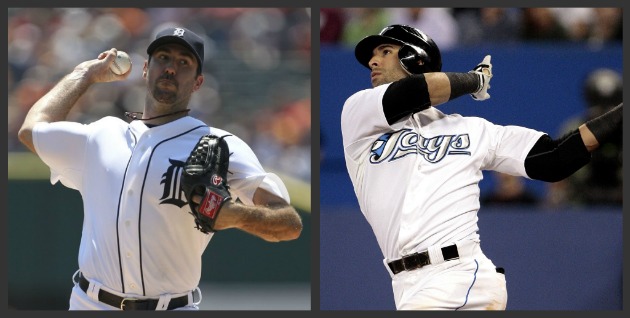 By Evan Brunell
During the week, Eye on Baseball will be profiling candidates to win baseball's major awards after the season. Today: the AL MVP.


The AL MVP race is shaping up to be one of the more interesting races as of late, with compelling cases to be made for several candidates. Increasingly, the MVP race in the junior circuit looks to be one that could bear out a surprise candidate. Without a clear-cut candidate, players will lose votes due to team performance, being a pitcher or seeing teammates stealing votes. This last distinction is important, as the
Red Sox
,
Yankees
and
Tigers
will all boast multiple candidates.
In alphabetical order, here are the 10 candidates that figure to appear on the majority of ballots:
Jose Bautista, Blue Jays
: The presumptive top candidate, Bautista is getting dinged due to Toronto being way out of the postseason race. But since when does one player control the fate of a team that could be in the hunt if it didn't play in the AL East? Bautista leads baseball with 40 homers and is far and away the most productive hitter with a .306/.444/.632 line. Any votes he loses due to playing for Toronto could easily be negated with rivals splitting the vote with teammates, so Bautista remains the most likely victory.

Robinson Cano, Yankees
: Entering play Tuesday, both Cano and
Dustin Pedroia
had equal production on offense as wOBA suggests (basically OPS, but weighted on an OBP scale and tweaked to account for OPS' weaknesses). Cano checks in at .307/.350/.535, while Pedroia lands at .304/.391/.469 in one less game than Cano. The difference is on defense, where Pedroia has played worthy of a Gold Glove and Cano has slipped back to below average, but fielding isn't considered a major factor in MVP balloting. Both players are deserving, but aren't even considered the best MVP on the team.

Miguel Cabrera, Tigers
: Voters will be dealing with a lot of AL East fatigue in MVP ballots, which could cause Cabrera to slip up the ballot further than anyone may have otherwise thought. The first baseman will crack 100 RBI before the year is out and should also slide over the 30-homer barrier, which will be enough to make him viable to the voters still adamant about relying on traditional counting metrics. This is a player to watch.

Jacoby Ellsbury, Red Sox
: Ellsbury has been a wrecking machine all season and may be the most popular candidate on the Red Sox for voters, who will love the five tools Ellsbury brings to the table. Leading off much of the year, the center fielder has contributed a .311/.371/.520 line, swiping 36 bags and hammering 24 homers. If he can get hot down the stretch and toss in a 30/30 season for good measure, his candidacy will be overwhelming and could take home the honors. But will it be enough to cut through the noise of two other Boston contenders?

Adrian Gonzalez, Red Sox
: Gonzalez leads baseball in batting average with a .339 mark and while his power has suffered with the move to Fenway, 23 homers and 67 extra-base hits is nothing to sneeze at. An August swoon dropped his RBI pace down and no longer leads the league in that respect, but he's still collected 103 on the season. Pair that with fantastic defense as always, and he's another strong candidate. Someone who was considered a lock to win the award before the year and even for the first few months of the season, Gonzalez may fall short thanks to Bautista's overpowering talents and Ellsbury doing it all on the same team.

Alex Gordon, Royals
: Gordon's not going to win the award, but with the MVP balloting going 10 deep, he figures to show up on enough to place on the ballot. He's been the Royals' best hitter by far, with a sneaky .303/.376/.502 line that would get far more play if he played on a better team or in a better media market. Gordon has also taken to left field, leading all outfielders with 20 assists. (Second best:
Nick Markakis
, 14.) While some of these assists are certainly players taking a risk early on in the season with an unknown entity manning left, it's still to Gordon's credit that he's become a strong fielder. If he keeps up these type of numbers in the coming years, he could have a MVP waiting for him down the line.

Curtis Granderson, Yankees
: Granderson is doing all he can to outslug Bautista with 38 homers and 109 RBI to his name, but where he drops off is in batting average, with his .271 line the lowest among any hitter on this list, and the only one under .300. That's going to hurt Granderson, as well as the presence of Cano as a candidate. And, while not listed here,
CC Sabathia
and
Mark Teixeira
could also steal votes. Mitigating things is Granderson's 24 stolen bases. If you throw fielding out of the equation, Granderson easily clears Ellsbury in terms of offensive value. But when you add in overall game... well, the balloting results should be interesting.

Dustin Pedroia, Red Sox
: As mentioned above, Pedroia has the same offensive value as Cano, but wins it all on fielding. Yet, Pedroia pales in comparison -- at least as far as MVP chatter goes -- to Ellsbury and Gonzalez. Pedroia
is
the Red Sox at this point and is one of the most indispensable players in the game. But that doesn't necessarily mean he's MVP, and it's hard to look past the gaudy numbers Ellsbury and Gonzalez are putting up in favor of someone who just keeps motoring along. Perhaps in a weak class, he'd stand out.

Justin Verlander, Tigers
: The only pitcher on this list, Verlander has a chance to win it all because when he pitches, the Tigers win. When he doesn't the Tigers... well, they win too, but a lot less to the point where they'd be out of the postseason chase by now.
Scott Miller describes
his chase as well as anyone could: "Most dominant single individual player in baseball this season. In line to win the first pitching Triple Crown in the AL since
Johan Santana
in 2006, and he's 14-3 this season after a Detroit loss."

Michael Young, Rangers
: Young will get some love here for two reasons: First, he's not in the AL East. Second, the Rangers are currently poised to win the AL West, although the
Angels
may have something to say about that. (And even then, there's no clear MVP candidate in Los Angeles.) Plus, Young had that well-publicized spat with the Rangers over the winter, when he was booted to the DH spot, causing the infielder to ask for a trade. It didn't work out, but Young has been immeasurably valuable in his ability to play around the infield and has thrown up a .334/.376/.482 line, driving in 91 games, so he'll top 100. Getting votes as a MVP after the offseason he had would be an interesting story.
So all in all, who is the best candidate to win the MVP? We'll answer that later in the year, but drop in your responses in the comments.
For more baseball news, rumors and analysis, follow @EyeonBaseball on Twitter or subscribe to the RSS feed.