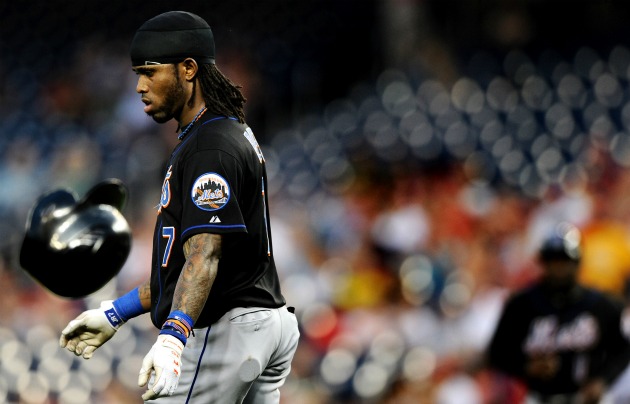 By Evan Brunell

The New York
Mets
plan to pare payroll significantly next season, taking a $140-million team and slashing it down to at least $110 million, if not under $100 million.
The Mets aren't ready to commit to an overall payroll plan for 2012 because a lot of the decision hinges both on 2012 ticket prices and the fate of
Jose Reyes
. The team has yet to determine next year's ticket prices, which will directly influence the team's payroll budget. Plus, New York could choose to rebuild next year if Reyes departs, which would set the team up better for future success even if a year's pain would be needed, a source tells the
New York Post's Joel Sherman
for the first time on the record or on background.
Helping matters is that the lineup and rotation for next season is pretty much ready to go, sans possible question marks at short and in center field, as well as the rotation, where the club could opt to non-tender Mike Pelfrey. If the team brought Reyes back, they would make more of a push to contend but still wouldn't go past $110 million in payroll, and that essentially guarantees the team next season looking much like this year's, as you can see from the table to your right. The projected lineup and rotation next season could be just like this year's, with Johan Santana added after a year-long rehab.
Why minimal change?
To start, the Mets don't have much choice. There are five players signed for 2012 at $60.45 million. Adding Reyes around $20 million annually would push the total cost to $80.45 million, leaving just $30 million to spread out among 19 other players. That's not a lot of flexibility, which would demand the Mets retain many of their players, especially those who have yet to hit free agency and can still be controlled at lower dollars.
But don't forget -- the
Phillies
aren't going anywhere, the
Braves
are a strong team and the
Nationals
are starting to worry many in the game. That's a lot of teams to get through to make the postseason, and the Mets aren't dripping with enough talent to make it happen. They could be better off punting 2012 -- if Reyes doesn't return... or even if he does -- to get one year closer to the end of Santana and Jason Bay's contracts, while bringing along their top prospects for another year. With Jenrry Meija undergoing the knife for Tommy John surgery and Zach Wheeler along with Matt Harvey still a year or two out, it may be the prudent move to load up for 2013... especially given the elite free-agent class that currently projects to hit the market. Sherman cites
Andre Ethier
,
Matt Kemp
,
Cole Hamels
and
Matt Cain
as potential free agents.
While the Mets may be --
are
-- paring payroll so the Wilpons can save money in light of the Bernie Madoff case, they're also slashing payroll because there just isn't much that can be done. Treating 2012 as a rebuilding year to evaluate the team may be the most prudent course of action, Reyes or no Reyes. And if there's one thing about GM Sandy Alderson we know, it's that he's smart and if the best course of action -- even in a major media market like New York -- is to wait another year for the best chance at long-term success, he will do it.
And frankly, if you look at the team, it's the right move. The Mets should do what they can to bring back Reyes, but any retention of Reyes would have to be with the idea that the contract would pay far more dividends in 2013 and beyond, not 2012. Lip service would be paid toward making the postseason next year with Reyes, of course, but it wouldn't go beyond that unless New York surprises and stays in contention deep into July.
For more baseball news, rumors and analysis, follow @EyeonBaseball on Twitter or subscribe to the RSS feed.