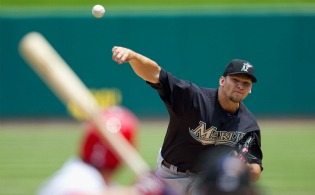 By Evan Brunell

Josh Johnson
's shoulder injuries are nothing new. He was sidelined in May with what was thought to be a tame case of shoulder inflammation that has instead knocked him out for the year. It's the latest setback in a career of setbacks, instead of being a career of dominance.
Over the last three years, Johnson has made 70 starts with a 2.64 ERA, checking in at 1.64 over nine starts this year. But over the same time period, J.J. has had four problems with his shoulder or forearm, plus nine total across a career that started in 2006.
Now, though, Johnson may have made a breakthrough after a physical therapist suggested his shoulder injury this year was the cause of slouching as a result of "tall man's syndrome."
The right-hander certainly qualifies, checking in at a towering 6-foot-7. Now, Johnson is keeping an eye on his posture and wearing a shirt that is customized to keep his shoulders back, relieving pressure on his scapula, or simply the shoulder bone that connects the collarbone with the upper arm. Teammates have noticed the change, saying he stands taller.
"It's a matter of posture and a bunch of stuff that just kind of led up to it," Johnson told the Miami Herald. "Years and years of being tall, you're always slouching down. ... Your shoulder's not in a good place. You start leaning over when you're throwing. It snowballs."
Johnson reported he was able to get extension on his pitches Monday in his first bullpen session since June, throwing 21 fastballs. He wasn't able to get extension in June, so this was a significant step forward.
"Felt strong," Johnson said. "Totally different [from June]. I wish I could go out there now and pitch."
Pitching coach Randy St. Claire concurred, saying, "I think he could step on a mound and get guys out [Tuesday]."
The 27-year-old will throw again on Wednesday, but is definitely not returning to the big-league team this season. He does harbor hope of throwing in a game somewhere in October, just so he can go into the offseason with confidence.
The Marlins are gearing up for a major push this offseason, spiking payroll as high as possibly $80 million -- this after checking in under $60 million for 2011 -- as the team moves into a new stadium. It's going to be an important year for the Marlins, who are hoping the combination of a new stadium and competitive team will kickstart the fading market in Florida and make baseball viable.
For more baseball news, rumors and analysis, follow @EyeonBaseball on Twitter or subscribe to the RSS feed.